Servicios Personalizados
Revista
Articulo
Indicadores
Citado por SciELO
Links relacionados
Similares en SciELO
Compartir
---
versión impresa ISSN 1018-130X
Rev Med Hered v.23 n.2 Lima abr./jun. 2012
Schwanoma maligno torácico.
Thoracic malignant schwannoma.
Erick Campana 1, Jaime Cáceres 2
1 Médico residente de primer año de Radiología. Hospital Nacional Cayetano Heredia. Lima, Perú.
2 Médico asistente. Servicio de Patología. Hospital Nacional Cayetano Heredia. Lima, Perú.
Varón de 35 años con historia de cuatro meses de dolor hemitórax izquierdo, masa supraclavicular izquierda y anestesia cubital del miembro superior izquierdo. La tomografía espiral multicorte (A: Imagen de planigrama y Reformación coronal con contraste, con ventana en mediastino) ( Figura 1), mostró extensa masa sólida que capta contraste y desplaza estructuras del mediastino. El estudio anatomo-patológico mostró células de núcleos alargados hipercromáticos (flecha amarilla) en fascículos, atipia nuclear moderada, con algunas mitosis (flecha negra) (B)( Figura 2). El Schwanoma puede ser benigno o maligno, es raro en tórax, produce ensanchamiento de agujeros foraminales y erosión de los cuerpos vertebrales.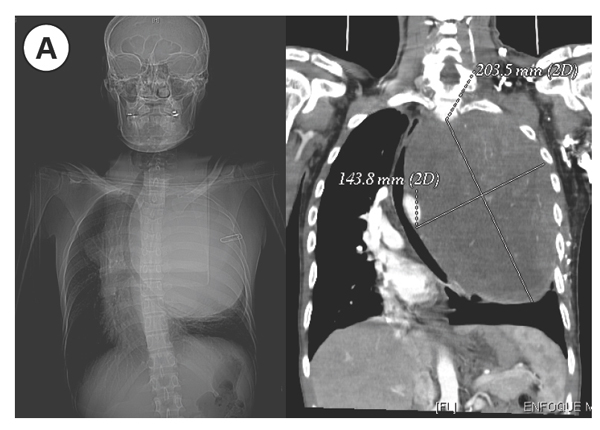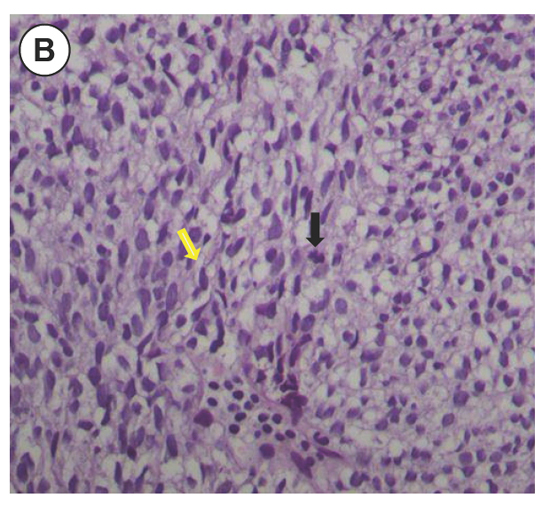 Male 35 years with diseases than four months characterized by left chest pain, left supraclavicular mass and ulnar anesthesia of left upper limb. Multislice spiral CT (A: Image planigrama and coronal reformation with mediastinal window) showed large solid mass take up contrast and displaces mediastinal structures. The anatomo-pathological study showed cells with hyperchromatic elongated nuclei (yellow arrow) in fascicles, moderate nuclear atypia, with some mitoses (black arrow) (B). Schwannoma may be benign or malignant, is rare in the chest, and produces widening holes foraminal and erosion of the vertebral bodies.