Linfoma no Hodgkin orbitario.
Orbital non Hodgkin lymphoma.
Aidee Infantas 1, Carlos Carrasco 2
1Médico Residente de Radiología 3° año. Hospital Nacional Cayetano Heredia. Universidad Peruana Cayetano Heredia. Lima, Perú.
2Médico Asistente. Dpto. de Radiología. Hospital Nacional Cayetano Heredia. Profesor Auxiliar. Facultad de Medicina Alberto Hurtado. Universidad Peruana Cayetano Heredia. Lima, Perú.
Varón de 86 años con tumoración orbitaria derecha. Figura 1 A: TEM con contraste reconstrucción coronal, muestra lesión sólida captadora de contraste (80 UH) que compromete saco lacrimal, solución de continuidad de los huesos nasales. Figura B: Inmunohistooquimica positiva a Antígeno común leucocitario (ACL) y CD-20, diagnóstico de Linfoma No Hodgkin de células B, difuso de células grandes. Linfoma non Hodgkin compromete las orbitas en el 1%. El 85% son de linfocitos B. Clínicamente hay exoftalmos y diplopía.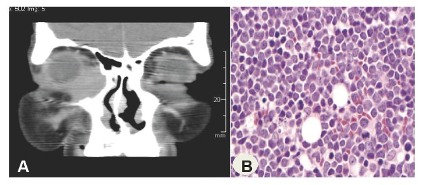 A 86 year-old male with right orbital tumor. A: TEM contrast coronal reconstruction shows contrast enhancing solid lesion (80 HU) involving the lacrimal sac, solution of continuity of nasal bones. B: Inmunohistooquimica positive to leukocyte common antigen (ACL) and CD-20, diagnosis of non-Hodgkin B-cell, diffuse large cell. Non-Hodgkin lymphoma committed orbits at 1%. 85% are B-lymphocytes. Clinically there are exophthalmos and diplopia.