Services on Demand
Journal
Article
Indicators
Cited by SciELO
Related links
Similars in SciELO
Share
---
Print version ISSN 1018-130X
Rev Med Hered vol.23 no.4 Lima Oct./dic. 2012
Lesiones autoinfligidas sin propósito suicida.
Non-suicidal self-injuries.
Patricia Núñez-Moscoso 1, Miguel Arias-Gutiérrez 2
1 Médico asistente. Departamento de Emergencia. Instituto Nacional de Salud Mental Honorio Delgado – Hideyo Noguchi. Lima, Perú.
2 Médico residente de Psiquiatría. Instituto Nacional de Salud Mental Honorio Delgado – Hideyo Noguchi. Universidad Peruana Cayetano Heredia. Lima, Perú.
A: Lesiones cortantes en antebrazo izquierdo efectuadas con cuchillo, en diferentes estadios de cicatrización en un varón de 20 años, alcohólico y personalidad limítrofe. B: Lesiones abrasivas recientes y antiguas, en el dorso de mano izquierda infligidas con aguja en una mujer de 24 años, depresiva recurrente y bulímica ( Figura 1). En la práctica diaria se observan lesiones que los mismos pacientes refieren haberse producido. Usualmente se trata de jóvenes, con rasgos anómalos de personalidad, que se infligen cortes (o pueden ser quemaduras, golpes, pinchazos, etc.) reiterativamente, sin propósito suicida sino para aliviar su tensión y disforia. Paradójicamente, el individuo al llegar a emergencia se muestra ya calmado y es el médico quien puede no comprender adecuadamente este tipo de conductas. Mediante la anamnesis deben distinguirse de lesiones que individuos antisociales se producen con el fin de eludir su detención o carcelería (pues son llevados para atención médica).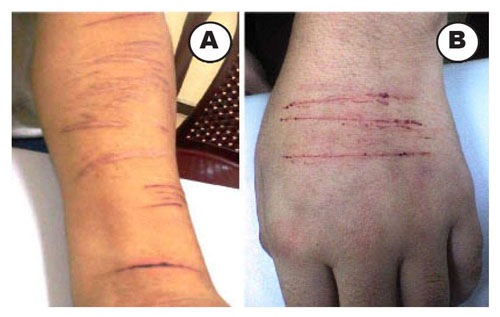 A: Cutting lesions performed with a knife in different scarring stages on the left arm of a 20-year alcoholic man who also had a borderline personality disorder. B: Old and recent abrasive lesions on the dorsum of the left hand performed with a needle in a 24-year old woman with recurrent depressive and bulimic disorders. Self-induced lesions are seen in the daily practice, usually among young persons with abnormal personality disorders who repeatedly self-induce lesions (cuttings, burnings, hitting) with no suicidal purposes but to alleviate tension and dysphoria. Paradoxically, the individuals look calm at the emergency room while the physicians may not understand this kind of attitudes. A proper medical history should identify self-induced lesions that delinquents perform to avoid detention and incarceration.