Servicios Personalizados
Revista
Articulo
Indicadores
Citado por SciELO
Links relacionados
Similares en SciELO
Compartir
---
versión On-line ISSN 1729-214X
Rev Med Hered vol.24 no.3 Lima jul./set. 2013
Tromboembolia pulmonar masiva en paciente con secuela pulmonar
Massive pulmonary embolism in patient with pulmonary tuberculosis sequelae
Maryleen Muñoz(1), Germán Málaga (2)
(1) Alumna de Medicina 5°año. Universidad Peruana Cayetano Heredia. Lima, Perú.
(2) Médico Asistente de Medicina Interna. Hospital Nacional Cayetano Heredia. Profesor Asociado. Universidad Peruana Cayetano Heredia. Lima, Perú.
Mujer de 69 años con antecedente de TBC pulmonar con tratamiento completo hace 30 años y diagnóstico de hipertensión pulmonar hace 3 meses. Acudió a emergencia en mal estado general, con historia de una semana de disnea y tos productiva sin sangre. Tenía distrés respiratorio severo, disminución del murmullo vesicular y estertores diversos y difusos a predomino derecho. Los exámenes de laboratorio revelaron severa injuria pulmonar aguda e hipoxemia. La tomografía espiral multicorte mostró extensas áreas de panalización, bronquiectasias y bulas; además, una extensa imagen hipodensa correspondiente a un trombo endoluminal en la rama principal derecha de la arteria pulmonar (Figura 1). Fue hospitalizada en la unidad de cuidados intensivos y tratada con anticoagulación, ventilación mecánica no invasiva, antibióticos y broncodilatadores. Fue dada de alta 20 días después con oxigenoterapia domiciliaria y anticoagulación, manteniéndose en buen estado en el seguimiento a los 3 meses posteriores.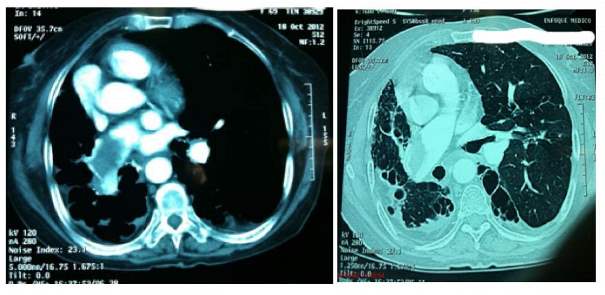 A 69 year old woman, with a complete treatment for pulmonary tuberculosis 30 years ago and was diagnosed of pulmonary hypertension 3 months ago. One week before admission presents productive cough without blood and progressive dyspnea. In the Emergency she looked bad, respiratory distress was evident, breath sounds were decrease and multiple and diffuse stertors were found in the right hemitórax. The lab exams revealed severe pulmonary injury and hypoxemia. The CT shows large areas of honeycombing, bronchiectasis and bullas; additionally, a large hypodense image compatible with an endoluminal thrombus in the right principal pulmonary artery. The patient was hospitalized receiving anticoagulation therapy, no invasive mechanic ventilation, antibiotics and bronchodilators. She was discharged after 20 days with indications of oxygen at home and anticoagulation therapy. In the follow-up 3 months later she was stable.