Services on Demand
Journal
Article
Indicators
Cited by SciELO
Related links
Similars in SciELO
Share
---
Print version ISSN 1018-130X
Rev Med Hered vol.25 no.4 Lima Oct. 2014
Pielonefritis enfisematosa asociado a litiasis coraliforme
Emphysematous pyelonephritis with staghorn calculi
Rowena Hammond-Castro1, Alan Figueroa-Romero1,a
1 Facultad de Medicina Alberto Hurtado, Universidad Peruana Cayetano Heredia. Lima, Perú.
a Residente del Tercer año de Urología.
Varón de 53 años, con fiebre, disuria y lumbalgia. La tomografía mostró riñón derecho aumentado de tamaño, litiasis coraliforme (1300 UH), sistema colector dilatado, cambios inflamatorios con estriación de la grasa perirrenal, y colecciones con niveles hidroaéreos en las pirámides y en la pelvis renal (Figura 1). La pielonefritis enfisematosa es una infección grave, producida por bacterias formadoras de gas, es más frecuente en mujeres, el 90% de los casos se asocia a diabetes mellitus y con menor frecuencia a uropatia obstructiva. Frecuentemente es unilateral. La mortalidad es alta si compromete el espacio perirrenal; la tomografía el método más confiable y sensible.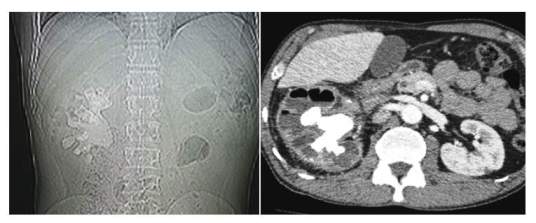 A 53-year old male presented with fever, dysuria and lumbar pain. The CT-Scan showed a swollen right kidney, staghorn lithiasis, dilated collector system, inflammatory changes in the peri-renal soft tissue and collections with air fluid level in the renal pelvic area. Emphysematous pyelonephritis is a serious infection caused by gas forming bacteria, it is most frequent in females; 90% of cases are associated with diabetes mellitus and less frequently to obstructive uropathy; it is more frequently unilateral than bilateral. Mortality is high if affect the peri-renal tissues; the CT-Scan is the most reliable and sensitive diagnostic method.