Services on Demand
Journal
Article
Indicators
Cited by SciELO
Related links
Similars in SciELO
Share
---
Print version ISSN 1018-130X
Rev Med Hered vol.27 no.3 Lima July 2016
IMÁGENES EN MEDICINA
Mordedura de Loxoceles en cara
Loxosceles bite in face
Ciro Maguiña1; 2,a, Raúl Acosta1
1 Hospital Cayetano Heredia. Lima, Perú.
2 Facultad de Medicina, Universidad Peruana Cayetano Heredia. Lima, Perú.
a Profesor Principal, Vicerrector de Investigación.
---
Mujer de 20 años, acudió a emergencia con historia de siete horas de enfermedad. Sintió una picadura en cara de un insecto que no vio; a las dos horas notó edema de párpados bilateral que progresa rápidamente a los labios y cara. Al examen se observó lesión pálida violácea en el párpado derecho (Figura 1): (A) y edema facial a predominio derecho. Recibió terapia como loxoscelismo severo complicado con suero antiloxosceles, hidrocortisona, clorfeniramina, clindamicina y oxacilina. En la evolución presentó edema de glotis y dificultad respiratoria que requirió intubación endotraqueal. B: Muestra la lesión a los diez días después del alta.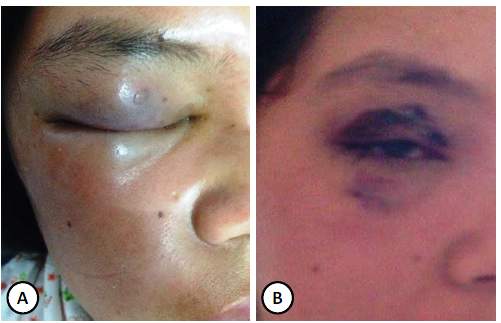 20 year old woman went to emergency with seven-hour history of disease. She felt a sting in the face of an insect that saw; two hours he noticed bilateral eyelid edema and rapidly progressing to lips and face. On examination,pale violet lesion was observed in the right eye (Figure 1): (A) and facial edema predominantly right. She received therapy as complicated severe loxoscelism with antiloxosceles serum, hydrocortisone, chlorpheniramine, clindamycin and oxacillin. In the evolution she presented glottis edema and respiratory distress requiring endotracheal intubation. B:Shows the injury ten days after discharge.