Servicios Personalizados
Revista
Articulo
Indicadores
Citado por SciELO
Links relacionados
Similares en SciELO
Compartir
---
versión impresa ISSN 1018-130X
Rev Med Hered vol.28 no.2 Lima abr./jun. 2017
http://dx.doi.org/https://doi.org/10.20453/rmh.v28i2.3114 
IMÁGENES EN MEDICINA
Sarcoma de Kaposi clásico
Classic Kaposi's sarcoma
Vanessa Méndez-Mathey 1, 2, a
1 Facultad de Medicina Humana. Universidad Privada San Juan Bautista. Lima, Perú.
2 Sociedad Científica de Estudiantes de Medicina, Universidad Privada San Juan Bautista. Lima, Perú.
a Estudiante de Medicina.
---
Varón de 92 años de edad con diagnóstico de síndrome cardio-renal tipo I, hipertensión, diabetes mellitus 2, con secuela de ACV, insuficiencia mitral con anticoagulación permanente; presentó lesiones maculo-papulares, induradas, de color rojo vinoso, descamativas, hiperqueratosicas y linfedema en miembros inferiores (figura 1). El Sarcoma de Kaposi (SK) llamado también sarcoma múltiple pigmentado idiopático o sarcoma hemorrágico idiopático múltiple, es una neoplasia maligna del endotelio vascular y linfático, relacionado con el virus del herpes humano tipo 8 (HHV-8), factores inmunológicos, genéticos y ambientales. Se puede presentar con lesiones cutáneas nodulares vasculares múltiples o con afectación de órganos internos. Aparece entre la 6° y 7° décadas de la vida, afectando principalmente a hombres. Se definen cuatro tipos de sarcoma de Kaposi: Clásico que afecta a hombres de mediana edad, Africano endémico, Iatrogénico en pacientes inmunosuprimidos y Relacionado con VIH-1/SIDA.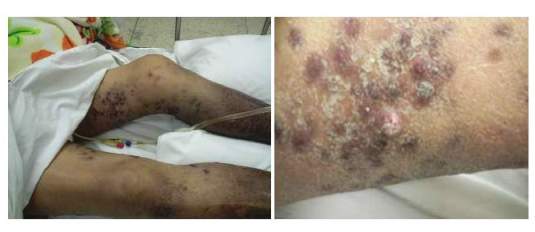 A 92 year old patient with the diagnoses of cardio-renal syndrome type I, type 2 diabetes mellitus, sequela of a cerebral vascular accident, mitral insufficiency with permanent anticoagulation noticed dark red macules and indurated papules with desquamation, hyperkeratosis and lymphedema of the lower limbs. Kaposi´ sarcoma (KS) also called multiple idiopathic pigmented sarcoma or multiple idiopathic hemorrhagic sarcoma is a malignant condition that affects the vascular endothelium and lymphatic vessels that is related to human herpes virus 8 infection (HHV-8), immunologic, genetic and environmental factors. KS may present with multiple nodular lesions or affecting internal organs. KS mainly affects males between the sixth and seventh decades of life. Four types of KS are recognized: classic, endemic African variant, iatrogenic in immunosuppressed patients and HIV-related.
Correspondencia:
Vanessa Méndez-Mathey
Correo electrónico: vmmatthey@hotmail.com