Services on Demand
Journal
Article
Indicators
Cited by SciELO
Related links
Similars in SciELO
Share
---
Print version ISSN 1022-5129
Rev. gastroenterol. Perú vol.32 no.3 Lima July/Sep. 2012
REPORTE DE CASOS
Pancreatoyeyunostomia en asa desfuncionalizada en Y de Roux y una alternativa para hospitales de bajo volumen
Pancreatico-jejunostomy in defunctionalized roux-y loop. an alternative for low volume hospitals: report of a case performed at the Rebagliati Hospital
*Pedro J Ríos, *Eduardo Montoya, *Cesar Romero
* Departamento de Cirugía del Hospital Nacional Edgardo Rebagliati Martins
---
RESUMEN
El presente caso corresponde a una paciente obesa sometida a duodenopancreatectomia por quiste solido pseudopapilar de cabeza de páncreas, considerada en cirugía pancreática como de alto riesgo por presentar páncreas blando, wirsung menor de 2 mm, y vías biliares no dilatadas. La pancreatoyeyunostomia realizada fue termino-términal con invaginación del muñón pancreático, con sutura en bolsa de tabaco para sellar la anastomosis y en asa desfuncionalizada en Y de Roux para evitar el medio alcalino de la anastomosis bilioyeyunal.
PALABRAS CLAVE: Pancreatoyeyunostomia en Y de Roux.
---
ABSTRACT
This case is about a one obesity patient to carry out pancreaticoduodenectomy for solido pseudopapilary cyst of the pancreatic head, considerate in pancreatic surgery like high risk for to present soft pancreatic, wirsung smaller to 2mm and not bile duct dilatation .The pancreaticojejunostomy was performed end to end with invagination of the pancreatic stump with suture in tobacco bag to a defunctionalized jejunal loop Y the Roux to avoid middle alkali of the bile duct – jejunostomy.
KEY WORDS: Pancreaticojejunostomy Y-Roux loop.
---
INTRODUCCIÓN
En décadas recientes, avances en la técnica quirúrgica y manejo perioperatorio han reducido dramáticamente la tasa de mortalidad después de duodenopancreatectomia a menos del 5%, sin embargo aun en hospitales de alto volumen la morbilidad continua siendo alta 30-50% (1).
La dehiscencia de la pancreatoyeyunostomia, con subsecuente fístula, formación de absceso, sepsis o sangrado continua siendo la causa más importante de morbilidad y muerte después de duodenopancreatectomia. La incidencia de esta complicación oscila entre el 8% al 20% y su mortalidad puede llegar al 60% (2,3)
La anastomosis pancreatoyeyunal clásica, siempre esta cerca de la anastomosis bilioyeyunal y como consecuencia el peligro de erosión por las enzimas pancreáticas activadas en un medio alcalino biliar, siempre esta latente (4,5).
Monge reporto una mortalidad operatoria del 12% y la mitad de las muertes fueron debido a sangrado, así concluyeron que el peligro post operatorio era la auto digestión de los tejidos cerca de la anastomosis pancreatoyeyunal con la hemorragia resultante (6).
Los factores intrisecos mas importantes relacionados al desarrollo de fístula pancreática son: textura blanda pancreática, diámetro del conducto pancreático menor de 2 mm, alto volumen de la secreción por el páncreas blando(7).
Para proteger la anastomosis pancreática varias medidas perioperatorias han sido propuestas: ligadura del conducto, oclusión del conducto con prolamin, sellado con fi brin glue, administración de octeotride para inhibir la producción de secreción pancreática, técnicas de drenage externo del asa yeyunal, stent interno del conducto pancreàtico, stent externo del conducto pancreatico y una variedad de modificaciones técnicas de la anastomosis pancreatoyeyunal (8,9,10,11, 12 ).
Mucha atención ha sido puesta en el manejo de la anastomosis pancreatoenterica para prevenir la fístula pancreática, siendo la anastomosis pancretoyeyunal la forma de reconstrucción mas frecuentemente utilizada después de duodenopancreatectomia. Esta puede ser termino-terminal, termino-lateral, conducto a mucosa y tecnicas invaginantes (13,14).
La pancreatoyeyunostomia termino-terminal invaginante con sutura en bolsa de tabaco que sella la anastomosis es una reconstrucción atraumatica que no desgarra el muñon pancreatico, fue descrito por Spivack y modifi cado por Celis y Peng (15, 16, 17).
El año 2003 A. Kleespies introduce una nueva técnica en la pancreatoyeyunostomia termino lateral con el objeto de disminuir la tasa de fístulas pancreáticas, con suturas en U transpancreáticas, que reduce el numero total de puntos y no produce desgarro del muñón pancreático. Esta técnica fue originalmente descrita por L. H. Blumgart en el Memorial Sloan-Kettering Cancer Center (18,19).
Algunos autores recomiendan la pancreatogastrostomia para evitar la activación del tripsinogeno a tripsina por estar la anastomosis en contacto con un medio acido, sin embargo un estudio prospectivo comparativo realizado por Yeo (20), demostró que la incidencia de fístula no es mas baja comparada con la pancreatoyeyunostomia. (11.7% -12.3%)
El efecto del volumen Institucional, en duodenopancreatectomias realizadas por año, influyen en la mortalidad, así hospitales de muy bajo volumen (0-1 procedimiento por año) y de bajo volumen ( 1-2 procedimientos por año) tienen una mortalidad de 16.3% y 12% comparado con hospitales de alto volumen (6-16 procedimientos por año) y de muy alto volumen (> de 16 procedimientos por año) que tienen una mortalidad de 3.8% (21, 22, 23, 24, 25, 26,27).
Papadimitriou en su trabajo logro una mejora signifi cativa en la tasa de mortalidad en un hospital de bajo volumen, lograda por la anastomosis del muñón pancreático a un asa yeyunal desfuncionalizada en Y de Roux (28,29,30,31, 32,33,34).
CASO CLÍNICO
Paciente GSC, sexo F, 57 años de edad, con tiempo de enfermedad de 1 año, de inicio insidioso caracterizado por dolor abdominal localizado en epigastrio e irradiado al hipocondrio derecho y a la espalda, de leve a moderado. Evaluada en la Clínica San Gabriel con TEM y RMN de abdomen fue referida al Hospital Rebagliati con el diagnóstico de cistoadenoma seroso.
Análisis pre operatorios. Hb: 13.6 g/dl, Htc: 39.7 %, plaquetas: 263,000, Leucocitos: 6,690, Glucosa: 104 mg/ dl, Urea: 30 mg/dl, Creatinina: 0.65 mg/dl, PT: 7.36 g/ dl, Globulinas: 3.13 g/dl, Albumina: 4.23 g/dl, BT:1.05 mg/dl, BD:0.25, BI:0.80, TP: 11.26 seg, TTP: 29.08 seg, amilasa: 50, lipasa:25, CA 19-9: 15.3 U/ml, AFP: 4.3 ng/ ml, CEA: 0.9 ng/ml, Inmunoblot para hidatidosis: negativo, RQ: II, Peso: 76 Kgr, Talla. 1.50 M IMC:33.7. TEM: Páncreas muestra cabeza prominente con presencia de tumoración hipodensa de bordes lobulados que mide 39x33 mm, con escaso realce en la fase arterial y se torna isodenso en fase tardia, (Fig 1). RMN: Presencia de una tumoración en la cabeza pancreatica, bien definida, no infiltrante, con caracteristicas muy sugerente de cistoadenoma seroso.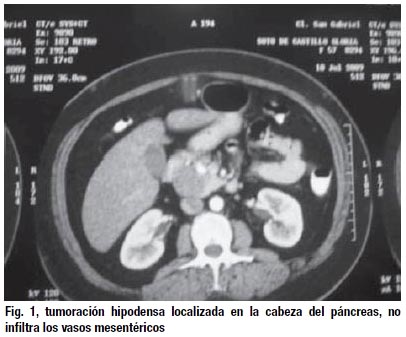 Operación. Duodenopancreatectomia, pancreatoyeyunostomia t-t con invaginacion del muñon pancreatico ,en asa yeyunal desfuncionalizada, hepatoyeyunostomia t-l, gastroyeyunostomia, t-l, entero-enteroanastomosis t-l, yeyunostomia con sonda de foley Nº 14 (drenage externo de asa yeyunal pancreatica), drenage Jacson Pratt. Hallazgos: tumor de consistencia indurada de 4x4 cm dependiente de cabeza de páncreas. En el postoperatorio pasa a UCI, en el P01: recibe enoxaparina 60 mg sc, ciprofloxacino 400 mg c/12h, metronidazol 500 mg c/8h, presenta sangrado del muñón pancreático que se objetiva por la sonda de yeyunostomia, P02 se suspende enoxaparina, sangrado por el muñón pancreático sede. P0 3 – P0 9 buena evolución, P0 10 subfebril, tolerancia oral moderada, cultivo de cateter + a stafilococo epidermides, inicia Imepenem – vancomicina, P0 17 secreción lechosa por drenage Jacson Pratt. P0 22 alta, tolerancia oral adecuada, afebril. Control en consultorio externo P027, Ecografia abdominal, no liquido libre en cavidad, se retira yeyunostomia, continua con drenage Jacson Pratt, escasa secreción lechosa. El AP tumor quistico sòlido pseudopapilar, (Foto 1, Fig 2, Foto 2).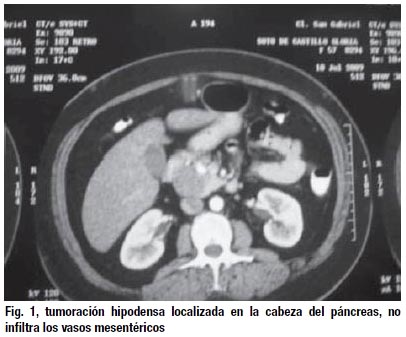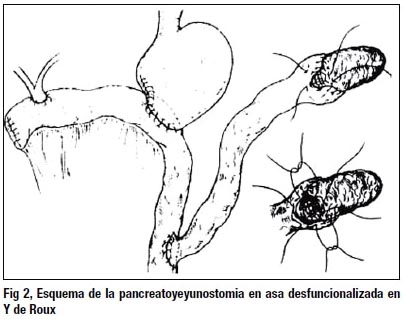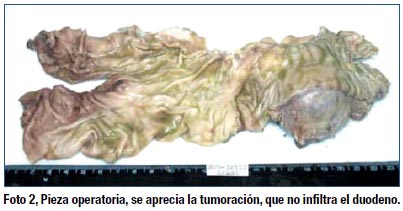 DISCUSIÓN
En el postoperatorio el paciente presento fístula pancreática tipo A de acuerdo a la definición del grupo de estudio Internacional de fístula pancreática, fístula que cerro espontáneamente y no tuvo repercusión clínica (36).
La regla de oro de la cirugía es anticiparse y no tratar las complicaciones, así el manejo operatorio del muñón pancreático es el factor más importante en la prevención de las complicaciones, después de duodenopancreatectomia (4,5,6,7).
Ademas del sangrado, la fìstula pancreàtica tambien esta implicada en complicaciones infecciosas, sepsis intraabdominales, relacionada a dehiscencia pancreatica y/o biliar, siendo responsable de la mayoria de fatalidades después de duodenopancreatectomia (6).
La mortalidad de la pancreatoduodenectomia en Hospitales de bajo volumen son signifi cativamente superiores a las de hospitales de alto volumen y esto es fundamentalmente por falla en la anastomosis pancreatoyeyunal (21, 22).
En la mayoria de las reconstrucciones la anastomosis pancreatoyeyunal esta cerca de la bilioyeyunal y como consecuencia el peligro de erosiòn de las enzimas pancreaticas activadas siempre esta latente (28).
Un importante punto acerca de la tecnica de reconstruccion después de duodenopancreatectomia es la potenciacion quimica que puede ocurrir con la mezcla de secrecion biliar y pancreatica, asi la lecitina biliar en presencia de la fosfolipasa A pancreatica se transforma en lysolecitina que es un agente caustico, ademas el tripsinógeno se trasforma en trypsina , que es una proteasa activa (28,30, 31) .
La separaciòn de la secreciòn pàncreatica de la biliar, para prevenir su potenciaciòn reciproca, puede prevenir la digestión quimica enzimatica del muñon pancreatico, asi en caso de presentarse una deshiscencia de la anastomosis pancreatoyeyunal esta seria una fìstula pura con un mejor pronostico que una fìstula mixta con enzimas activadas (32,33,34).
El uso del asa yeyunal desfuncionalizada en Y de Roux previene que las secreciones pancreáticas puedan ser activadas por la bilis, por estar lejos de la anastomosis hepaticoyeyunal y así la anastomosis pancreatoyeyunal puede cicatrizar en ausencia de efectos corrosivos de las proteasas activadas y aun si se presentara fístula pancreática esta seria controlable, porque no tiene enzimas activadas (28-35), Fig 2.
Otro de los factores para prevenir la fístula de la anastomosis pancreatoyeyunal, es la precisión en la técnica y la fineza con la que se maneje el muñón pancreático, así la anastomosis ideal debe ser simple, rápida, poco traumática para el páncreas, evitar las suturas tangenciales que laceran el frágil parénquima pancreático como se observa en la tècnica de Catell-Warren y además lo mas importante , la anastomosis debe estar lejos de la anastomosis bilioyeyunal, es decir no debe estar en contacto con un medio alcalino biliar que active las enzimas pancreáticas (15,18,28).
REFERENCIAS
1. CRIST DW, SITZMSNN JV, CAMERON JL. Improved hospital morbidity, mortality, and survival after the Whipple procedure.Ann Surg 1987; 206: 2284-2303.
2. YEO CJ, CAMERON JL, SOHN TA, et al. Six hundred fifty consecutive pancreaticoduodenectomies in the 1990s: pathology,complications, and out-comes. Ann Surg 1997 ; 226: 248-257.
3. BALCOM JH, RATTNER DW, WARSHAW AL, et al. Ten-year experience with 733 pancreatic resections: changing indications, older patients, and decreasing length of hospitalization. Arch Surg 2001;236:391-398.
4. MARCUS SG, COHEN H, RANSON JH. Optimal management of the pancreatic remnant after pancreaticoduodenectomy. Ann Surg 1995;221: 635-645.
5. SIKORA SS, POSNER MC. Management of the pancreatic stump following pancreaticoduodenectomy. Br J Surg 1995;82:1590-1597.
6. MONGE JJ, JUDD ES, GAGE RP. Radical pancreaticoduodenectomy: a 22 –years experience with complications, mortality rate and survival rate. Ann Surg 1964; 160: 711-719.
7. SUZUKI Y, FUJINO Y, TANIOKA Y, et al. Selection of pancreaticojejunostomy techniques according to pancreatic texture and duct size. Arch Surg 2002; 137: 1044-1047.
8. TRAN K, VAN EIJCK C, DI CARLO V, et al. Occlusion of the pancreatic Duch versus pancreaticojejunostomy: a prospective randomized trial. Ann Surg 2002; 236: 422-428.
9. LILLEMOE KD, CAMERON JL, KIM MP, et al. Does fibrin glue sealant decrease the rate of pancreatic fistula after pancreaticoduodenectomy? Results of a prospective randomized trial. J Gastrointest Surg 2004; 8:766-772.
10. YEO CJ, CAMERON JL,LILLEMOE KD, et al. Does prophylactic octreotide decrease the rates of pancreatic fistula and other complications after pancreaticoduodenectomy? Results of a prospective randomized placebo-controlled trial. Ann Surg 2000;232: 419-429.
11. JACOB DA, BAHRA M, LANGREHR LM. Jejunal loop drainage versus direct pancreatic duct drainage after pancreatic head resections. Surg Today 2006; 36: 898-907.
12. WINTER JM, CAMERON JL, CAMPBELL KA, et al. Does pancreatic duct stenting decrease the rate of pancreatic fistula following pancreaticoduodenectomy? Results of a prospective randomized trial. J Gastrointest Surg 2006; 10:1280-1290.
13. BASSI C, FALCONI M, MOLINARI E, et al. Duct- to- mucosa versus end- to–side pancreaticojejunostomy reconstruction after pancreaticoduodenectomy: results of a prospective randomized trial. Surgery 2003;134:766-771.
14. SIKORA SS, POSNER MC. Management of the pancreatic stump following pancreaticoduodenectomy. Br J Surg 1995;82:1590-1597.
15. STRASBERG SM, DREBIN JA, MOKADAM NA,et al. Prospective trial of a blood supply-based technique of pancreaticojejunostomy: effect on anastomotic failure in the Whipple procedure. J Am Coll Surg 2002;194: 746-758.
16. SPIVACK B, WIDE AG. Purse-string modification of the dunking pancreaticojejunostomy. Br J Surg 1994;81: 431-432.
17. CELIS J, BERROSPI F, RUIZ E,PAYET E. How I do it .Safe pancreaticojejunostomy after Whipple procedure: Modified technique. J of Surg Oncol 2001;76: 138-140.
18. PENG SY, WANG JW,LAU WY, et al. Conventional versus binding pancreaticojejunostomy after pancreaticoduodenectomy: a prospective randomized trial. Ann Surg 2007;245:692-698.
19. KLEESPIES A, RENTSCH M, SEELIGER H, et al. Blumgart anastomosis for pancreaticojejunostomy minimizes severe complications after pancreatic head resection. British Journal of Surgery 2009; 96: 741-750.
20. LANGREHR JM, BAHRA M, JACOB D, et al. Prospective randomized comparison a new matres technique and Catetell (Duch-to-mucosa) pancreaticojejunostomy por pancreatic resection. World J. Surg 2005;29:1111-1119.
21. YEO CJ, CAMERON JL, MAHER MM, ET AL. A prospective randomized trial of pancreaticogastrostomy versus pancreaticojejunostomy alter pancreaticoduodenectomy.Ann Surg 1995;222:580-588.
22. LIEBERMAN MD, KILBURN H, BRENNAN MF. Relation of perioperative deaths to hospital volume among patients undergoing pancreatic resection for malignancy. Ann Surg 1995;222:638-645.
23. BIRKMEYER JD, SIEWERS AE,FINLAYSON EVA,et al. Hospital volume and surgical mortality in the United States. N Engl J Med 2002;346:1128-1137.
24. VAN HEEK NT, KUKLMANN KF,SCHOLTEN RJ ,et al. Hospital volume and mortality after pancreatic resection :a systematic review and an evaluation of intervention in the Netherlands. Ann Surg 2005;242:781-788.
25. HO V, HESLIN MJ. Effect of hospital volume and experience on in hospital mortality for pancreaticoduodenectomy. Ann Surg 2003;237:509-514.
26. SOSA JA, BOWMAN HM, GORDON TA, et al. Importance of hospital volume in the overal management of pancreatic cancer. Ann Surg 1998;228: 429-438.
27. GOUMA DJ, VAN GEENEN RC, VAN GULIK TM, et al. Rates of complications and death after pancreaticoduodenectomy : risk factors and the impact of hospital volume. Ann Surg 2000;232:786-795.
28. SIMUNOVIC M, TO T, THERIAULT M, LANGER B. Relation between hospital surgical volume and outcome for pancreatic resection for neoplasm in a publicly funded heath care system. CMAJ 1999; 160:643-648.
29. PAPADIMITRIOU JD, FOTOPOULOS AC, SMYRNIOTIS B, et al. Subtotal pancreatoduodenectomy. Use of a defunctionalized loop for pancreatic stump drainage. Arch Surg 1999; 134: 135-139.
30. KINGSNORTH AN. Duct to mucosa isolated Roux loop pancreaticojejunostomy as an improved anastomosis after resection of the pancreas. Surg Gynecol Obstet 1989; 169:451-453.
31. GROBMYER SR, JARNAGIN WR, COIT DG, BLUMGART LH, BRENNAN MF, FONG Y. Roux-eny reconstruction after pancreaticoduodenectomy 2008;143 (12): 1184- 1188.
32. PESCIO G, CARIATI E. A new reconstructive method after pancreaticoduodenectomy: the triple roux on a P loop. Rationale and radionuclide scanning evaluation. Surgery 1996;9: 223-227.
33. ALBERTSON DA. Pancreaticoduodenectomy with reconstruction by Roux- en-Y pancreaticojejunostomy: no operative mortality in a series of 25 cases. South Med J 1994:87(2): 197-201.
34. MEYER C, ROHR S, DE MANZINI N. Pancreaticojejunal anastomosis with invagination on isolated loop after cephalic pancreatoduodenectomy. Ann Ital Chir 1997; 68 (5): 613-615.
35. KHAN AW, AGARWAL AK, DAVIDSON BR. Isolated Roux loop duct-to-mucosa pancreaticojejunostomy avoids pancreatic leaks in pancreaticoduodenectomy. Dig Surg 2002;19(3): 199-204.
36. MA YG, LI XS,CHEN H, WU MC. Pancreaticoduodenectomy with Roux-Y anastomosis in reconstructing the digestive tract: report of 26 patients. Hepatobiliary Pancreat Dis Int.2002; 1(4):611-613.
37. BASSI C, DERVENIS C, BUTTURINI G, YEO C, et al. Postoperative pancreatic fistula: an international study group (ISGPF) definition .Surgery 2005;138:8-13.
Correspondencia:
Dr. Pedro Ríos Canturín,
E-mail: prioscanturin@yahoo.com,
Celular: 995236011, teléfono: 2637488