Servicios Personalizados
Revista
Articulo
Indicadores
Citado por SciELO
Links relacionados
Similares en SciELO
Compartir
---
versión impresa ISSN 1022-5129
Rev. gastroenterol. Perú vol.34 no.2 Lima abr. 2014
Reporte de Casos
Double pylorus in the era of proton pump inhibitors
Doble píloro en la era de los inhibidores de la bomba de protones
Sílvia Mansur Reimão1,2, Thiago Ferreira De Souza1,2, Jose P. Otoch1, Christiano Makoto Sakai1, Robin Mauricio Yance Hurtado2, Lucas Menezes Marques2, Eduardo Guimarães Hourneaux De Moura1, Everson L. A. Artifon1
1 Gastrointestinal Endoscopy Unit, Department of Gastroenterology, University of São Paulo School of Medicine. São Paulo, Brasil.
2 Gastrointestinal Endoscopy Unit, Departament of General Surgery, Faculty of Medicine ABC. Santo André, Brasil.
---
ABSTRACT
Double pylorus and gastroduodenal fistula are rare conditions and can be either congenital or acquired. We report a case of a 58-year-old man with epigastric pain and dyspepsia in which the upper gastrointestinal endoscopy revealed an acquired double pylorus, probably caused by a gastric ulcer.
Key words: Peptic ulcer; Helicobacter pylori, Endoscopy (source: MeSH NLM).
---
RESUMEN
El doble píloro y la fístula gastroduodenal son condiciones raras y pueden ser congénitas o adquiridas. Se reporta un caso de un varón de 58 años con dolor epigástrico y dispepsia en quien la endoscopía digestiva alta mostró un doble píloro adquirido, probablemente causado por una úlcera gástrica.
Palabras clave: Úlcera péptica; Helicobacter pylori; Endoscopía (fuente: DeCS BIREME).
---
INTRODUCTION
Gastrointestinal abnormalities are rarely found during upper endoscopy in adults. Double pylorus and gastroduodenal fistula are either congenital or acquired. Acquired double pylorus, in most cases, is the result of a penetrating peptic ulcer creating a fistula between the duodenal bulb and the prepyloric antrum (1).
The most widely accepted hypothesis for its pathogenesis is that penetration initiates adhesion of the walls of the stomach and duodenum and finally creates a connecting channel, which is re-epithelialized (2).
We report a case of an acquired double pylorus in a middle aged adult.
CASE REPORT
A 58-year-old male was admitted to our hospital in March 2012 because of recurrent epigastric pain and dyspepsia. He had not presented any fever, gastrointestinal bleeding or post-prandial vomiting. He had not taken any nonsteroidal anti-inflammatory drugs (NSAIDS), steroids or other medications. Laboratory blood tests were within the normal range.
An upper gastrointestinal endoscopic examination of the stomach revealed two channels in the pylorus region, one in the regular site and the other in the lesser curvature of the antrum to the superior portion of the bulb. A small open ulcer (approximately 7 mm) was also seen close to the fistula (Figura 01).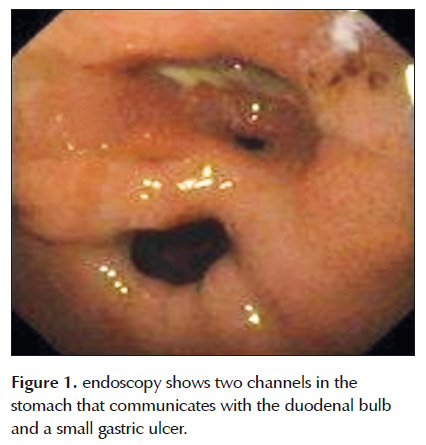 The endoscope could be passed from the antrum to the duodenum through either channel. Biopsy specimens, taken from around the accessory channel and the ulcer, showed inflammatory changes with Helicobacter pylori.
Treatment was initiated with omeprazole (40 mg twice daily), amoxicillin (500 mg twice daily) and clarithromycin (250 mg twice daily) for 14 days.
Upper endoscopy 2 weeks later showed that the ulcer was beginning to heal, but the "double pylorus" remained (Figura 2). However, the patient was feeling better.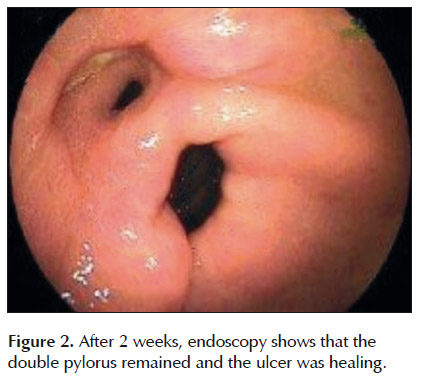 DISCUSSION
Double pylorus is a rare disease, with a reported prevalence of between 0.06% and 0.4% (3).
This abnormality is often associated with stomach and duodenum peptic ulcer disease, stomach malignancy, respiratory system diseases, chronic kidney disease, and diabetes mellitus. A long history of treatment with drugs including corticosteroids and NSAIDS may also prohibit healing, leading to fistula formation (4).
This patient had none of these concomitant diseases nor used medications, but he was positive for H. pylori, which is known to be responsible for recurrent refractory ulcers. Although the association between double pylorus and H. pylori has not yet been elucidated, this infection may have played a role in forming the fistula in our case. In order to prevent new ulcer formation and to improve the healing of the fistula, eradication of H. pylori may be recommended for this condition (5-8).
The diagnosis is usually made by endoscopy (1,9). Our patient's history of recurrent epigastric pain and dyspepsia suggests that the lesion was acquired and arose from the antral ulcer, penetrating to the duodenal bulb.
There are some case reports of symptomatic double pylorus causing epigastric discomfort, dyspepsia and upper gastrointestinal hemorrhage (6). However; this condition generally does not exhibit any symptoms. In fact, it is mostly found serendipitously by endoscopic or x-ray examination (7), considering the clinical course, our patient's symptoms were probably due to peptic ulcer.
The management of double pylorus is usually conservative with anti-ulcer therapy. Nevertheless, ulcer healing in these patients is usually poor. Surgical intervention such as distal gastrectomy should only be considered for patients with refractory symptoms, recurrent ulcers and complications (6).
Very often the accessory pylorus channel remains for life, but in some patients it closes or connects with the true pylorus to form one channel again (10).
According to the study reported by Hu et al, the double pylorus closed in 9%, remained open in 64%, and eventually fused or formed a single large pylorus in 27% of patients (6).
In summary, double pylorus is a rare condition, as well as a relatively benign complication of peptic ulcer. It should be treated with proton pump inhibitors and a long follow up, as some patients do not have a good response for clinical treatment.
Conflict of interests:
None.
REFERENCES
1. Wurm G1, Saers T, Weber M, Krakamp B. [ Uncommon condition of the upper gastrointestinal tract: double pylorus ]. Z Gastroenterol. 2009 Feb;47(2):220-2. doi: 10.1055/s2008-1027521. [ Links ] [Article in German]
2. Rohde H, Troidl H, Fischer M. A ntral duodenal fistula following penetration and perforation of prepyloric ulcer into the duodenal bulb . Gastrointest Endosc. 1975 Nov;22(2):99-101. [ Links ]
3. Arhan M, Oztas E, Ibis M, Sezgin S, Ozin Y. A rare endoscopic finding: acquired double pylorus . Surg Endosc. 2010 Jan;24(1):244-5. doi: 10.1007/s00464-009-0557-5. [ Links ]
4. Kothandaraman KR, Kutty KP, Hawken KA, Barrowman JA. Double pylorus--in evolution. J Clin Gastroenterol. 1983 Aug;5(4):335-8. [ Links ]
5. Hu TH, Tai DI, Changchien CS, Chen TY, Chang WC. Double pylorus: report of a longitudinal follow-up in two refractory cases with underlying diseases . Am J Gastroenterol. 1995 May;90(5):815-8. [ Links ]
6. Hu TH, Tsai TL, Hsu CC, Lu SN, Hsiao M, Changchien CS. Clinical characteristics of double pylorus. Gastrointest Endosc. 2001 Oct;54(4):464-70. [ Links ]
7. McGrew W, Spear M, Sutton W, Dunn GD. Acquired double pylorus . South Med J. 1984 Sep;77(9):1167-70. [ Links ]
8. Erturk M . Double pylorus: a complication of gastric ulcer. Rev Esp Enferm Dig. 2012 Jun;104(6):338-9. [ Links ]
9. Johansson GW, Thorlacius H, Toth E. Education and imaging. Gastrointestinal: double pylorus--an uncommon endoscopic finding in the stomach . J Gastroenterol Hepatol. 2012 Mar;27(3):618. doi: 10.1111/j.1440-1746.2012.07053.x. [ Links ]
10. Czajkowski A, Rosolowski M, Lukaszyk A. Double pylorus: strong evidence for the acquired etiology of this rare abnormality . Endoscopy. 2007 Feb;39 Suppl 1:E84. [ Links ]
Correspondence:
Sílvia Mansur Reimão Av. Dr. Eneas de Carvalho Aguiar, 255 - 6º andar do prédio dos ambulatórios 05403-000 - São Paulo, Brasil E-mail: silvia_mansur@yahoo.com.br
Recibido: 24/03/2014
Aprobado: 20/05/2014
 Todo el contenido de esta revista, excepto dónde está identificado, está bajo una Licencia Creative Commons