INTRODUCTION
Achalasia is an uncommon primary motility disorder of the esophagus, characterized by loss of esophageal peristalsis and incomplete relaxation of the lower esophageal sphincter in response to swallowing 1. Incidence varies between 1.07 and 1.63/100,000 persons per year. The mean age at diagnosis is 56 years, it is less common in the pediatric population with an incidence of 0.18/100,000 persons per year 2,3. In this population, there are no guidelines that establish standard treatments, even less so when initial therapies failed. Management options include pharmacologic therapy, lower sphincter endoscopic dilatation, laparoscopic Heller myotomy (LHM) with fundoplication; and a recent therapy, peroral endoscopic esophageal myotomy (POEM), which is feasible, effective and safe 1. LHM has high acceptance and has a spread use as a procedure of choice in patients with primary achalasia 4. However, LHM failure rate is approximately 10-20% and this group of patients presents recurrent or persistent symptoms 5. There is limited literature about rescue treatments in patients with Heller myotomy failure. The current report presents a pediatric patient with persistent symptoms of achalasia after LHM and subsequent balloon dilatation (BD), who was treated successfully with a rescue POEM in a tertiary referral hospital in Lima, Peru.
CASE REPORT
A 15-year-old male patient with achalasia diagnosed 4 years before, presented to our hospital with dysphagia, regurgitation, weight loss and retrosternal pain; his initial Eckardt score at this admission was 12. He underwent LHM plus fundoplication 4 months previously, and because of persistent symptoms, endoscopic BD was performed 1 month before; but he had refractory symptoms.
The posterior timed barium esophagogram revealed severe esophagus dilatation, the classic "bird-beak" appearance, and a barium column height of 12 cm at 5 minutes (Figure 1A). Endoscopic findings include persistent and spastic 2 cm lower esophageal sphincter in the proximal end which precludes visualizing the gastroesophageal junction (GEJ), and competent fundoplication below. High-Resolution Manometry was consistent with achalasia type II, according to Chicago classification, with integrated relaxation pressure of 33 mmHg.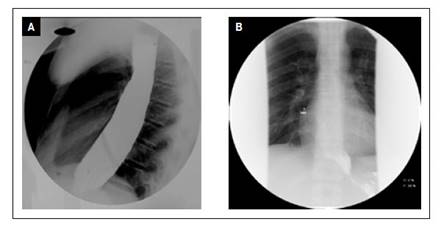 The case was discussed by a multidisciplinary team, and because a redo laparoscopic HM was considered very difficult, POEM was proposed. After discussion with and obtaining informed consent from the parents, the patient underwent POEM in the endoscopy room, under general anesthesia, in left lateral decubitus. Performing a posterior access, a 10 cm myotomy was done using hybrid "T" knife, reassuring to have passed 3 cm below the GEJ (Figure 2). The whole procedure was completed in 44 minutes with no complications. The procedure was performed by one of the researchers and an expert endoscopist with acronym FPS. On day 5, the patient was discharged without dysphagia or regurgitation.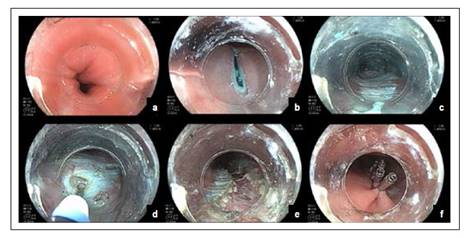 At follow up, timed barium esophagogram at 1 month showed a barium column height of 2.7 cm at 5 minutes (Figure 1B), gastroscopy at 6 months revealed easy opening of lower esophageal sphincter and no signs of esophagitis, and most importantly, the Eckardt score at 12 months was 2.
DISCUSSION
Achalasia is an esophageal motility disorder characterized by incomplete or absent relaxation of the lower esophageal sphincter and aperistalsis. The diagnosis of achalasia in our patient was made at 11 years old, when he was considered part of the pediatric population; the disease in children is very rare, with a reported incidence of 0.1-0.18/100,000 persons per year 3.
Treatment options in all patients aim to reduce lower esophageal sphincter pressure and improve outflow. In pediatrics, there are no standardized protocols for optimal management, and even less so when recurrent or persistent symptoms after endoscopic or surgical therapy occur, a condition described as refractory achalasia 6. Pharmacological therapies such as Clostridium botulinum toxin injection or calcium channel blockers are not recommended because of its short-term effectiveness and side effects 1. BD has a greater rate of recurrent symptoms and requires multiple sessions; unpredictable outcomes and significant serious complications indicate that this procedure is only recommended in institutions where myotomy techniques are not available 7. Also, BD has demonstrated to be less favorable in a long-term follow up for young patients with achalasia 7. LHM, with or without fundoplication, has been shown to be sure and effective in more than 90% of cases studied. LHM involves cutting the cardia muscle fibers on the anterior side and performing a fundoplication to reduce the risk of gastroesophageal reflux 4. In children, LHM has a good long-term resolution of symptoms in 85% of patients 8,9. Since Inoue described the first patients in 2010 successfully treated with POEM (a technique that consisted of creating a submucosal tunnel followed by endoscopic myotomy of circular muscle bundles), POEM is being used more frequently 10. It has a clinical success rate between 97 and 100%, and a rate of major adverse events of less than 4% 11-13. Although few studies have been conducted about POEM for the treatment of pediatric achalasia, a recent meta-analysis that includes 12 studies with 146 pediatric patients who underwent POEM for achalasia showed at least 93% of them experienced improvement or resolutions of symptoms, as well as a significant drop of the basal lower esophageal sphincter pressure, with low rate of minor adverse events 14. Although current evidence is not yet sufficient to establish recommendations for the technique, POEM is proposed as a suitable treatment option in this population 14,15.
To these treatment modalities, the most used in pediatric population is still LHM, but despite the efficacy of this procedure, 10-20% of patients have persistent or recurrent symptoms because of incomplete myotomy, and less frequently because of tight fundoplication or peptic stricture 5. In these cases, patients are left with few choices to manage their disease, those include BD, redo LHM or a rescue POEM.
After LHM failure because of incomplete myotomy, our patient underwent BD with no clinical benefit. There is limited and variable data on the efficacy of BD as a secondary treatment for achalasia. Despite the fact that it was considered the first-line rescue treatment of all failed surgical myotomy patients in some hospitals in Japan 16, more recent trials show variable success in the short term (57 to 89%) 5. Besides, its effectiveness decreases over time in young patients, and the relapse rates at 5-10 years have ranged from 18% to 37%, requiring multiples dilatations with the risk of fibrosis and future difficulty to posterior myotomies 17. On the other hand, some studies found that BD should not be performed within 3 to 4 months after myotomy, because of the greatest risk of perforation with the balloon forcing at the myotomy site 18.
Studies supported redo LHM as an effective and feasible procedure in specialized centers, with clinical success rate around 80% 5. However, it is an invasive and difficult procedure, because it is necessary to first release adherences and fundoplication, then perform a new myotomy with a new fundoplication. In general, redo LHM has lower efficacy and greater complications than first LHM 19.
Recently, a growing number of publications have surfaced about rescue POEM in failed LHM with persistent symptoms like our patient; in 80% of them, the patients have had BD before rescue POEM 5,16. The largest American study of rescue POEM is from Zhang et al. who reported 95.7% good clinical response in 46 patients 11. Tyberg et al. showed 94% clinical success in 51 patients of 9 countries, who had POEM as salvation technique 19. Finally, a recent systematic review involving five observational studies with 36 patients with rescue POEM reported 98% of clinical success 5. Because of this evidence, rescue POEM is considered feasible, safe and effective when LHM fails due to incomplete myotomy 13.
There are some advantages of rescue POEM over redo LHM, including the feasibility for a second longer myotomy, posteriorly orientated myotomy on the opposite site of the initial surgical one, and fewer complications. Also, because these patients already have fundoplication, we avoid the main drawback of POEM which is reflux 16. We completed the rescue POEM in our patient in just 44 minutes, with less difficulty than expected, and after one year of follow up, the patient remains without dysphagia and does not have reflux symptoms or esophagitis.
In conclusion, rescue POEM is feasible, safe, and efficacious in refractory achalasia after failed LHM (even in pediatric patients), and should be considered as first line treatment in this condition. This is the first report in Peru of a pediatric patient with refractory achalasia treated successfully by POEM.