INTRODUCTION
Myriapoda is a subphylum of arthropods containing four classes: Chilopoda (centipedes), Diplopoda (millipedes), Pauropoda (pauropods) and Symphyla (symphylids). Diplopoda is the most diverse class of the Myriapoda, comprised of 16 orders and over 12000 known species 1. These arthropods are distinguished by having body segments with attached jointed legs by pairs. The Diplopoda class differs from the other in that the first four segments and the head portion do not possess legs.
Change of seasons have a marked effect on these artrophod's behavior. They appear mainly during warm and rainy seasons and take places with humid conditions as their habit, dwelling in soil or under stones, wood or leaves 2-3. Myriapoda have also been known to thrive in domestic settings with poor lighting such as bathrooms, kitchens and inside footwear in closets.
Due to being slow and possessing unsuitable mouth parts, the survival of millipedes largely depends on complex chemical defense mechanisms, when in presence of a threat they produce and secrete substances from specialized glands present throughout their entire bodies 4-5. The composition of these chemical irritants varies from one species to another. Species belonging to the Julida, Spirobolida and Spirostreptida orders secrete benzoquinones among which the most commonly known are 2-methyl-1,4-benzoquinone and 3,3a,4,5-tetrahydro-1Hpyrrolo-(2,3-b) pyridine-2,6-dione; species from the Glomeridae and Polyzoniidae orders produce alkaloid compounds; species from the Callipodida and Chordemouidea orders secrete phenols and species from the Polydesmida order secrete hydrogen cyanide 3-6.
Contrary to popular belief, millipedes are not considered poisonous to humans. Their defense mechanisms can be innocuous or may in some cases result in harm towards human beings, manifesting as erythematous, purpuric and/or cyanotic lesions along with local pain and paresthesias. Depending on the exposure's duration, intensity and the chemical compound itself, moderate to more severe lesions such as ulcers and blisters may present 7. Rare cases of corneal lesions have been reported 8.
We describe a case from the Andean region of Colombia, with daily temperatures ranging from 15° and 30°C and an average humidity of 72%. The patient accidentally stepped on a millipede that was in one of his shoes.
CASE PRESENTATION
A 25-month-old male was brought into the emergency department for appearance of a painful violaceous pigmentation located on the right foot between the first and fourth toes developing over less than 1 hour of exposure to a millipede that was inside the patient's right shoe according to his mother (Figure 1A). He did not have emesis, muscle spasms or any other symptoms. On admission he was afebrile with stable vital signs, adequate distal perfusion with the previously described cutaneous lesions on his right foot, with no local swelling or heat (Figure 1B). The rest of the physical examination was within normal limits. Laboratory test results were unremarkable. The patient underwent observation and pain management. At 2 weeks after hospital discharge, the extent of surface area involvement by hyperpigmented lesions was found to have resolved by more than 50% from initial presentation. Full clinical resolution was expected to occur within a timeframe of weeks to months, as described in the medical literature.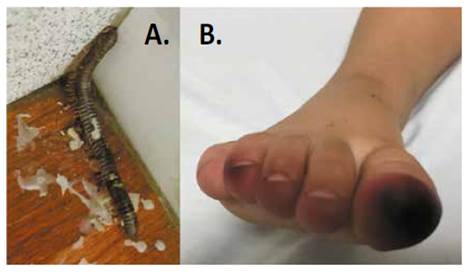 DISCUSSION
Exposure of the skin to millipede's toxins, although uncommon, may be of high medical concern due to potential evolution of skin lesions, even more so if failure to recognize the underlying pathological process occurs 7. Millipede populations have been reported to overcome 30 to 40 specimens per square meter in certain areas 2-3. Any type of lesion can be present in any individual at risk. Once the skin is exposed to the chemical compound a dark red to blackish change of color is expected, that can simulate inflammatory or even necrotic lesions 9.
Particularly in this case, a precise diagnosis was established based on the aspect of the lesions and the recognition of the Millipede. Due to the darkened and cyanotic/ischemic appearance of the lesion, vasculitis was strongly suggested as a diagnosis on admission. Many authors, including Arab et al found that the chemical compounds responsible for the change of color are 2-methyl-1,4-benzoquinone and 3,3a,4,5-tetrahydro-1H-pyrrolo(2,3-b) pyridine-2,6-dione present in arthropod glands 6.
The diagnosis of an Accident by Myriapoda is determined through epidemiological history and physical examination 10. There are no laboratory tests that are specific to these cases. Arterial ischemia, meningococcemia, bacterial endocarditis, cryoglobulinemia and collagen disease may be considered among differential diagnoses 10. Trauma and child abuse must also be considered as a likely cause for skin lesions and chemical burns 10.
Prompt washing of the affected part with soap and water must be initiated as part of medical treatment. Either alcohol or ether may also be employed, in order to dissolve toxins (benzoquinones) 11. Topical steroid ointments can be used for blisters and for symptomatic relief of burning sensation. Patients with any degree of eye exposure must be consulted to an ophthalmologist to rule out corneal ulceration. Hyperpigmentation can last weeks and even months, without repercussion on the patient's health or need for specific treatment 10-12.
Shaking shoes before wearing them and turning socks inside-out are in general, effective and practical preventive measures that also apply for accidents by scorpions and spiders 11.
In conclusion, accidents by Myriapods are not a common occurrence in most Emergency Department settings. Proper case management requires not only knowledge on the subject, but of epidemiological aspects necessary to rule out other entities. Pharmacological treatments aimed towards symptomatic relief are the mainstay of therapy, along with a careful follow-up to ensure a satisfactory clinical outcome.