Servicios Personalizados
Revista
Articulo
Indicadores
Citado por SciELO
Links relacionados
Similares en SciELO
Compartir
---
versión On-line ISSN 2304-5132
Rev. peru. ginecol. obstet. vol.63 no.2 Lima abr./jun. 2017
DISCUSIÓN DE CASOS PROBLEMAS EN PATOLOGÍA CERVICAL
Management of cytology of mild dysplasia in young women. A propos of a case
¿Qué hacer con citología de displasia de bajo grado en mujeres jóvenes? A propósito de un caso
José Jerónimo Guibovich1,2,3,4
1 Gynecologic oncologist
2 Member of the board of directors of the American Society for Colposcopy and Cervical Pathology (ASCCP)
3 Member of the board of directors of the International Papilloma Virus Society (IPVS)
4 Member of the education committee of the International Federation of Cervical Pathology and Colposcopy (IFCPC)
---
INTRODUCTION
Diagnosis and treatment of cervical dysplasia have evolved significantly in recent years. This evolution is due to the better understanding of the natural history of the infection with the human papilloma virus (HPV), as well as better understanding ofthe malignant potential of cervical pre-cancerous lesions. Treatment of cervical dysplasia has also evolved and not conservative treatment options are preferred, especially in young women due to the potential obstetrics implications of some treatments.
In this journal issue we are presenting a case to discuss the new recommendations for the diagnosis and management of pre-cancerous lesions of the uterine cervix.
CASE INFORMATION
Woman of 23 years of age, G: 0, P: 1001, one sexual partner. Asymptomatic, is evaluated by a gynecolo­ gist for cervical cancer screening. She refers some yellowish vaginal discharge, no bad odor. At the pel­ vic evaluation there is some vaginal discharge, cervix looks normal with some ectropium. During the first visit the patient had a colposcopic evaluation and the doctor reports probable mild dysplasia. A Pap smear sample is taken and later reported as dyskaryosis and mild dysplasia. The patient decided to visit another gynecologist for a second opinion. The new doctor repeats the colposcopic evaluation and reports probable moderate dysplasia. No biopsy is taken and the patient is treated with LEEP conization. The pathology report of the LEEP cone informs chronic cervicitis, but there is no report of dysplasia.
¿What is your opinion colleague?
1. The patients needed a HPV test before recommending the LEEP cone.
2. The LEEP cone was needed to determine if there was high grade lesion.
3. The LEEP cone was not needed.
DISCUSSION
The patient is a very young nulliparous woman. The guidelines from the World Health Organization (WHO)(1) recommend cervical cancer screening for women 30 and older; but the experts also acknowledge that in some areas or countries the screening could start earlier, but is not recommended to start before age 25. The guidelines from the American Society of Clinical Oncology (ASCO)(2) do not recommend screening before age 25, even in areas with significant resources.
The current recommendations in USA(3) consider screening starting at age 21 using Pap smear only, being one of the few countries in the world where screening starts at that early age. This patient had a colposcopic evaluation during the very first visit, and it is important to emphasize that no one of the international colposcopy organizations recommend using colposcopy as a screening test; it should be done only if there is an indication such as abnormal screening.
The first colposcopic evaluation of this patient reported the presence of a low-grade lesion, something that is not rare at this age because HPV infection is very common and there is no need for treatment. It called my attention that the Pap smear report mentioned the presence of koilocytotic atypia, considering that there are many reports mentioning that there is a poor correlation between the report of koilo­ cytosis at the cytology evaluation, and the real presence of the virus. The only method accepted for determining the presence of HPV is using validated molecular tests. The answer to the first question above is that in this patient it is not recommended to do a HPV test beca use the infection with that virus is very common at that age, and the result of the test does not help with the management of the patient. The current recommendations in USA include HPV testing starting at age 30, and as a co-testing with the Pap smear.
Regarding the diagnostic procedures in this patient, she had a Pap smear reported as mild dysplasia. In this case colposcopy is not recommended beca use she is very young and mild dysplasia is quite common at that age. Figure 1 shows the algorithm recommended by the ASCCP; there you can see in women between 21 and 24 years old, if there is no HPV test available, it is recommended to repeat the Pap smear in one year. Even if we have a HPV test, its result does not change the management significantly beca use if the HPV test is positive, then the recommendation is to repeat the Pap smear in one year. The only difference is when the HPV result is negative; in that case the recommendation is to go back to routine screening.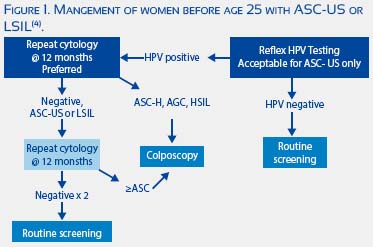 Finally, some comments about the treatment and management in this case. The patient did not have any indication for LEEP cone, she did not even have a biopsy reporting high grade disease. Assuming that the patient would have had a biopsy of CIN3, the treatment recommended is ablation with cryotherapy or thermal coagulation. There are multiple reports in the medical literature describing an increase risk of pre-term labor or premature rupture of membranes in women that had LEEP. A recent publication from Chevreau(5) did an evaluation of the obstetric outcome in women after LEEP cone, and the authors concluded that there would be an increase in the risk of pre-term adverse events and premature labor after a LEEP cone, especially if the treatment was done in women under 25 years old.
---
INTRODUCCIÓN
El manejo diagnóstico y terapéutico de la displasia cervical ha evolucionado significativamente en años recientes. Esta evolución se ha debido a que se conoce mejor la historia natural de la infección por el virus del papiloma humano (VPH), así como un mejor entendimiento del potencial premaligno y maligno de las lesiones de cuello uterino. El tratamiento de la displasia cervical también ha evolucionado y se tiende a la realización de terapias más conservadoras, especialmente en mujeres jóvenes, debido a las posibles implicancias obstétricas de algunas terapias.
En este número estamos presentando un caso para ilustrar algunas de las recomendaciones actuales del manejo de lesiones de cuello uterino en mujeres jóvenes.
CASO CLÍNICO
Mujer de 23 años, G: 0, P: 1001, número de parejas sexuales: 1. Asintomática, acude a la consulta de un ginecólogo para despistaje de cáncer de cuello uterino. Refiere tener flujo vaginal escaso, de color blanco amarillento, sin mal olor. Al examen ginecológico se encuentra leucorrea blanco amarillenta escasa, cuello uterino muestra ectropión leve. Le realizan colposcopia en la misma consulta y el médico refiere hallazgos compatibles con probable displasia leve. El resultado del examen de Papanicolaou informa 'displasia coilocitótica y displasia leve'. La paciente acudió a otro ginecólogo para tener una segunda opinión; se le repitió la colposcopia y el nuevo informe reportó displasia moderada. No se tomó biopsia y se procedió directamente a la realización de cono LEEP. El reporte de la pieza operatoria informó cervicitis crónica; no se reportó displasia de ningún grado.
¿Cuál es su opinión estimado lector?
1. La paciente debió tener una prueba de VPH antes de proceder al cono LEEP.
2. El cono LEEP era necesario para determinar si había lesión mayor.
3. El cono LEEP no estaba justificado.
COMENTARIO
Se trata de una paciente bastante joven y nulípara. De acuerdo a las recomendaciones de la Organización Mundial de la Salud (OMS)(1), el tamizaje para cáncer de cuello es recomendado a partir de los 30 años de edad. Aunque los expertos también reconocen que en algunos países o áreas se podría disminuir la edad de inicio del tamizaje, pero no se recomienda tamizar mujeres menores de 25 años. Las guías publicadas en el 2016 por la Sociedad Americana de Oncología Clínica (ASCO)(2) no recomiendan tamizaje a mujeres menores de 25 años, incluso en áreas con abundantes recursos económicos.
Las recomendaciones actuales en EE UU(3) consideran el tamizaje a partir de los 21 años, y solo usando Papanicolaou, siendo uno de los pocos países en el mundo donde aun se inicia a esa edad. La paciente tuvo una evaluación colposcópica en la primera visita, y es importante recalcar que ninguna organización internacional de colposcopia recomienda el uso de la colposcopia como un método de tamizaje, y solo debe realizarse el estudio colposcópico cuando hay una indicación para eso, tal como un tamizaje positivo.
La evaluación de la colposcopia inicial de esta paciente reportó la presencia de sospecha de lesión de bajo grado, lo cual no sería raro en una mujer tan joven donde la infección con VPH es muy común, y no requiere ningún tratamiento. Lo que llama la atención es el reporte del Papanicolaou, que informa atipia coilocitótica, considerando que ya está extensamente reportado que no existe una adecuada correlación entre dicho diagnóstico y la presencia real del virus. El único método para determinar la presencia de VPH es el uso de pruebas moleculares validadas. Esto nos lleva a comentar la primera respuesta de la pregunta arriba señalada; en esta paciente no estaba indicada la prueba de VPH, ya que es muy joven y la infección con este virus es sumamente común y no ayuda para el manejo diagnóstico. Las recomendaciones en los EE UU incluyen la prueba de VPH como co-testing (junto al Pap) a partir de los 30 años.
En cuanto al manejo diagnóstico de la paciente descrita, tuvo un Papanicolaou reportado como displasia leve. En este caso no se indica colposcopia por ser una paciente muy joven y la displasia leve es sumamente común a esa edad. La figura 1 muestra el algoritmo recomendado por la ASCCP. Allí se puede apreciar que en los casos en los que no se cuenta con la prueba de VPH, como en el caso en discusión, la recomendación es repetir el Papanicolaou en 12 meses. Así se hubiese contado con la prueba de VPH, el manejo diagnóstico no cambia significativamente, ya que un resultado de VPH positivo lleva a repetir el Papanicolaou en 12 meses, igual conducta que cuando no se hace la prueba. La única diferencia es que si es que hay un resultado negativo de VPH, la paciente regresa a su tamizaje de rutina.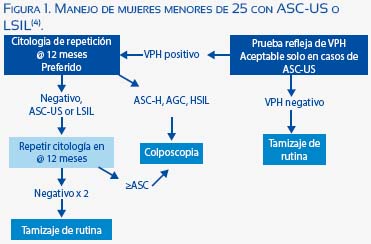 Finalmente, algunas palabras en relación al manejo terapéutico en este caso problema. La paciente no tenía indicación alguna para cono LEEP. Ni siquiera tenía una biopsia que describiera una lesión de alto grado. Asumiendo que la paciente hubiese tenido una lesión de NIC3 en una biopsia, el tratamiento que se prefiere es ablación con crioterapia o termo-coagulación. Cada vez hay más reportes que muestran un aumento en el riesgo de parto pretérmino o rotura prematura de membranas en mujeres que han tenido LEEP. Un reporte reciente por Chevreau y colaboradores(5) hace una evaluación de la historia obstétrica de pacientes que tuvieron conización con LEEP, concluyendo que si el procedimiento se realiza antes de los 25 años de edad aumentaría el riesgo de eventos adversos pretérmino tales como el parto prematuro.
REFERENCE5
1. WHO guidelines for screening and treatment of pre-cancerous lesions for cervical cancer prevention. World Health Organization; Geneva, Switzerland; 2013. [ Links ]
2. Jeronimo J. Castle PE, Temin S, Denny L, Gupta V, Kim J. Luciani S, Murokora D, Ngoma T, Qiao Y, Quinn M, Sankaranarayanan R, Sasieni P, Schmeler KM, Shastri S. Secondary prevention of cervical cancer: ASCO Resource-Stratified Clinical Practice Guideline. Journal of Global Oncology. Oct 12 2016: 1-23. [ Links ]
3. Saslow D, Solomon D, Lawson HW, Killackey M, Kulasingam SL, Cain J. Garcia FA, Moriarty AT, Waxman AG, Wilbur DC. Wentzensen N, Downs LS Jr. Spitzer M, Moscicki AB, Franco EL, Stoler MH, Schiffman M, Castle PE, Myers ER; American Cancer Society.; American Society for Colposcopy and Cervical Pathology.; American Society for Clinical Pathology. American Cancer Society, American Society for Colposcopy and Cervical Pathology, and American Society for Clinical Pathol gy screening guidelines for the prevention and early detection of cervical cancer. Am J Clin Pathol. 2012 Apr;137(4):516-42 [ Links ]
4. Massad LS, Einstein MH, Huh WK, Katki HA, KinneyWK, Schiffman M, Solomon D, Wentzensen N, Lawson HW, for the 2012 ASCCP Consensus Guidelines Conference. 2012 Updated Consensus Guidelines for the Management of Abnormal Cervical Cancer ScreeningTests and Cancer Precursors. journal of Lower Genital Tract Dis­ ease. 2013;17(5):S1-27. [ Links ]
5. Chevreau J. Mercuzot A, Foulon A, Attencourt C. Sergent F, Lanta S, Gondry J. Impact of age at conization on obstetrical outcome: a case-control study. journal of Lower Genital Tract Disease. April 2017;21(2):97­101. [ Links ]
Conflict of interest: None
Correspondence:
Received: 2 May 2017
Accepted: 12 May 2017