Servicios Personalizados
Revista
Articulo
Indicadores
Citado por SciELO
Links relacionados
Similares en SciELO
uBio
Compartir
---
versión impresa ISSN 1815-8242versión On-line ISSN 2413-3299
Arnaldoa vol.26 no.1 Trujillo ene./abr. 2019
http://dx.doi.org/10.22497/arnaldoa.261.26101 
ORIGINAL ARTICLES
Quasiantennaria (Asteraceae, Gnaphalieae), a new genus from the central Andes
Quasiantennaria (Asteraceae, Gnaphalieae), un nuevo género de los Andes centrales
Randall J. Bayer1; Michael O. Dillon2
1 Department of Biological Sciences, University of Memphis, Memphis, TN, USA. rbayer@memphis.edu
2 The Field Museum, Integrative Research Center 1400 South Lake Shore Drive, Chicago, IL 60605-2496, USA. mdillon@fieldmuseum.org
---
Abstract
Quasiantennaria R. J. Bayer & M. O. Dillon, a new genus from the central Andes distributed from Peru to Bolivia, is described and illustrated. It is characterized among Andean Gnaphalieae by its dioecious or polygamo-dioecious breeding system, cespitose, perennial herbs, basal rosulate leaves, capitulescences scapose, cymose-corymbose. It most closely resembles Antennaria Gaertn., a typically northern hemispheric genus; however, it differs in its achenial trichomes and relationships suggested by DNA sequence data.
Keywords: Asteraceae, Gnaphalieae, new genus, Bolivia, Peru, Andean flora.
---
Resumen
Quasiantennaria R. J. Bayer & M. O. Dillon, un nuevo género de los Andes centrales con distribución en Perú y Bolivia, se describe e ilustra para Perú. Se caracteriza entre las Gnaphalieae andinas por su sistema de reproducción dioico o polígamo-dioico, cespitosa, hierbas perennes, hojas basales en roseta, capitulescencias escaposas, cimoso-corimbosas. Es muy cercano a Antennaria Gaertn., un género típicamente del hemisferio norte; sin embargo, difiere en los tricomas de los aquenios y las relaciones filogenéticas sugeridas por datos de secuencia de ADN.
Palabras clave: Asteraceae, Gnaphalieae, nuevo género, Bolivia, Perú, flora andina.
---
Introduction
The Gnaphalieae (Cass.) Lecoq & Juill. (Asteraceae) is a small tribe comprising ca. 185 genera and 1240 species (Ward et al., 2009). In South America, some 20 genera and over 100 species are recorded with highest diversity in the tropical and subtropical Andean Cordillera (Dillon & Sagástegui-A., 1991a). Many have prolif- erated in upper elevation or alpine habitats in Peru (Dillon, 2005) and overwhelming- ly they possess reduced, small cushions of tightly clustered basal densely canescent leaves. Genera can look remarkably simi- lar, both in the field and as collections on herbarium sheets, but experience within these groups has shown that upon inspec- tion, microcharacters can allow discrim- ination of genera, especially when com- bined with DNA sequence data (Luebert et al., 2017).
Species that have been attributed to Antennaria Gaertn. in South America, e.g., A. chilensis J. Rémy, A. magellanica Sch. Bip. (= Antennaria chilensis var. magellanica Re- iche), and A. sleumeri Cabrera, have been considered as putative disjunctions from Northern Hemispheric taxa (Bayer et al., 1996). Recent next generation sequencing using hundreds of loci (Thapa et al., ined.) shows that Antennaria chilensis is a tradi- tional Antennaria and is closely related to the Antennaria rosea Greene polyploid agamic complex. It was recovered as sis- ter to Antennaria corymbosa E. Nels., which is a putative sexual progenitor of A. rosea (Bayer, 1990; Thapa et al., ined.). Antennar- ia sleumeri is an enigmatic species, known only from scant type material (LP) and un- til the species can be relocated, collected and studied further its relationships will likely remain cryptic. The remaining South American species, A. linearifolia Wedd., was recently included in analyses by Lu- ebert et al. (2017) and Thapa et al. (ined.) and notably did not group with other authentic or traditional Antennaria species, i.e., A. chilensis, A. dioica (L.) Gaertn., and A. microphylla Rydb. (see Fig.1, p. 1188 in Luebert et al., 2017).
Luebert et al. (2017) found that A. linearifolia was resolved in Clade L6 which included Jalcophila M. O. Dillon & Sagást., Loricaria Wedd., and Mniodes (A.Gray) Benth. (BPP: 1, MLB: 84). Jalcophila is sister to a clade with A. linearifolia, Loricaria and Mniodes (BPP: 1, MLB: 98). Relationships within the latter clade remain unresolved. Loricaria is well-supported (BPP: 1, MLB: 99) and Mniodes forms a well-supported monophyletic group (BPP: 1, MLB: 90). All other Antennaria were restricted to Clade L5 which contained Diaperia and sister to Clade L4 which contained Chevreulia Cass. and Cuatrecasasiella H. Rob.
Thapa et al. (ined.) conducted an anal- ysis using hundreds of loci to reconstruct the phylogeny of 34 species of Antennaria including, A. linearifolia. Antennaria lineari- folia fell clearly outside a strongly support- ed monophyletic traditional Antennaria, in an outgroup that contained four outgroup taxa, Mniodes schultzii (as Belloa), M. subspi- cata (as Luciliocline). Gamochaetopsis alpina (Poepp. & Endl.) Anderb. & S. E. Freire, and Facelis lasiocarpa (Griseb.) Cabrera. The relationships of A. linearifolia to any of the outgroup taxa was unresolved (Thapa et al., ined.), however it is manifestly not an Antennaria.
Therefore, molecular data has suggested that Antennaria linearifolia, regardless of its overall morphology, was recovered in a clade together with Loricaria and Mniodes, while the remainder of Antennaria species form a separate clade (Luebert et al., 2017). This result was not apparent in the ITS analysis of Antennaria (Bayer et al., 1996), because material of A. linearifolia was not included in that study.
The distribution of the dioecious breeding syndrome has developed independently no fewer than seven times within the Gnaphalieae, viz. Antennaria, Loricaria, Mniodes, Cuatrecasasiella H. Rob., Parantennaria Beauverd, Pterygopappus Hook. f., Sinoleontopodium Y.-L. Chen (Anderberg, 1991) and is a good example of parallel evolution. Antennaria has a Holarctic (mostly North American) distribution, while Loricaria, Mniodes, and Cuatrecasasiella are South American, Parantennaria and Pterygopappus are Australian, and Sinoleontopodium is Asian (China). A recent ITS/ETS phylogeny (Nie et al., 2015) of the Gnaphalieae using
80% of the genera (835 species) in the tribe confirmed the independent origins of the dioecious Gnaphalieae. Sinoleontopodium was described because its dioecious nature made it an "atypical" Leontopodium (Chen, 1985), however, it is clearly shown to be imbedded within traditional Leontopodium (Nie et al., 2015) by the molecular data. , have been upheld as distinct from Antennaria The evolution of the dioecious trait in the Gnaphalieae seems to be associated with the high elevation, usually cushion plant habit, and is therefore not always a trustworthy indicator of phylogenetic relatedness. Much taxonomic confusion in the Gnaphalieae has been caused because dioecy has been used as a strong taxonomic character, assumed to be homologous.
Therefore, as A. linearifolia cannot remain in traditional Antennaria and its relationships to other genera remain unclear, we propose that the taxon be moved to a new genus, Quasiantennaria.
Results
Quasiantennaria R. J. Bayer & M. O. Dillon, gen. nov.
TYPE: Quasiantennaria linearifolia (Wedd.) R. J. Bayer & M. O. Dillon
Dioecious or more rarely polygamo- dioecious, perennial herbs; stems simple, ascending or erect, tomentose or lanate. Basal leaves rosulate, oblanceolate to spatulate, entire; cauline leaves alternate, smaller. Capitulescences cymose- corymbose, racemose, or glomerulate, terminal, occasionally of a solitary head. Capitula discoid or rarely disciform; involucres ovoid or campanulate; phyllaries imbricate, scarious, the outer gradually narrowing, the inner prolonged into a petaloid lamina; receptacles convex to plane, epaleaceous; pistillate florets with corollas filiform, white or lilac, truncate or subdentate; staminate florets with corollas tubular, 5-lobed or 5-dentate, the anther bases sagittate, caudate, the terminal appendages ovate, the styles undivided or briefly bifid, the branches truncate. Achenes cylindrical or ellipsoidal, rounded or subcompressed, sessile, biseriate, capitate- glandular trichomes; pappus bristles uniseriate, scabrid, barbellate, fused at base or free, apices clavellate (staminate) or acute (pistillate).
A monotypic genus that contains the following species:
Quasiantennaria linearifolia (Wedd.) R. J. Bayer & M. O. Dillon, comb. nov.
Antennaria linearifolia Wedd., Chlor. And. 1: 150. 1856. TYPE: Peru, no exact locality, J. Dombey (Syntypes: P (P01816271!, P01816272!); lectotype (here designated): P01816271!); isolectotypes: MA (MA816408!, MA816409!) (Fig.1, 2, 3, 4, 5).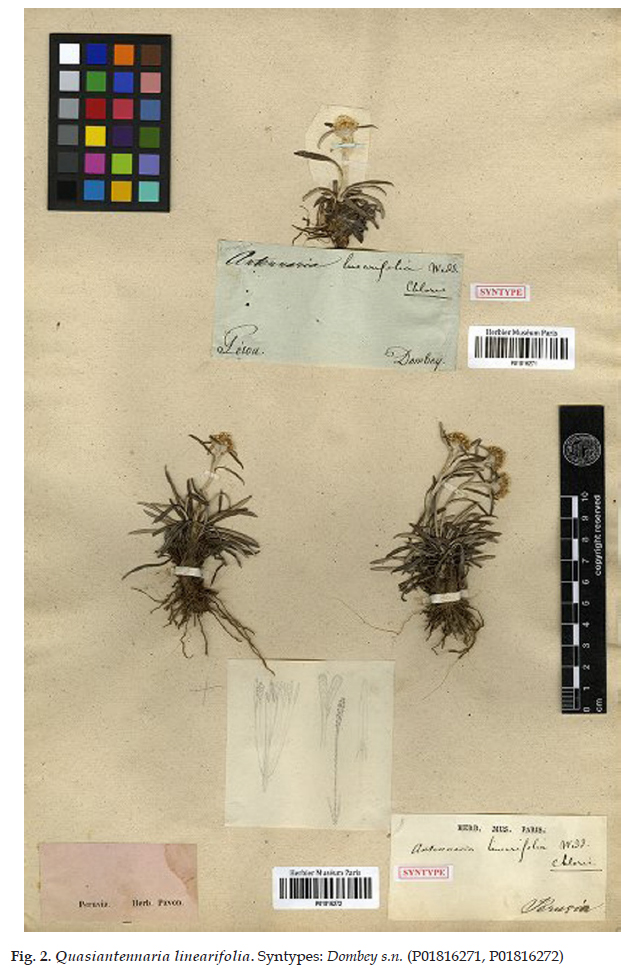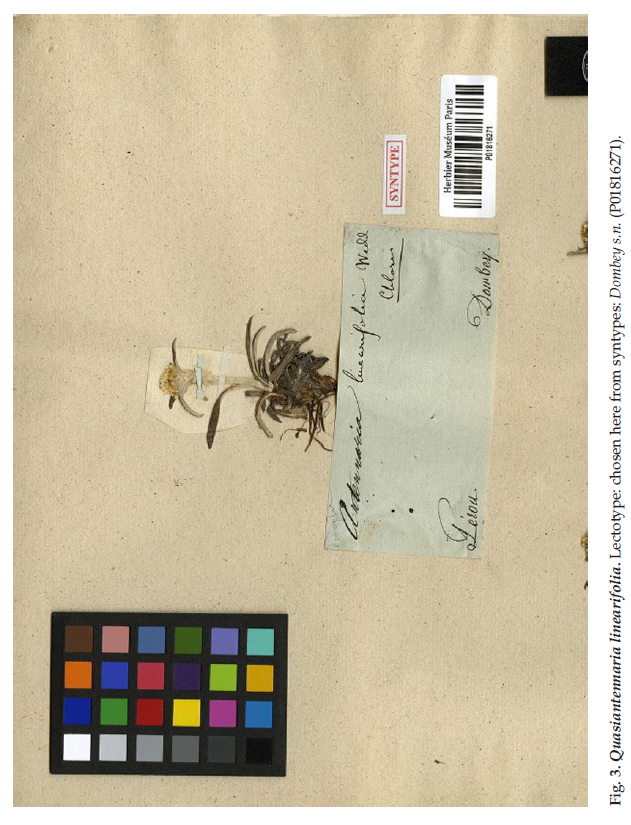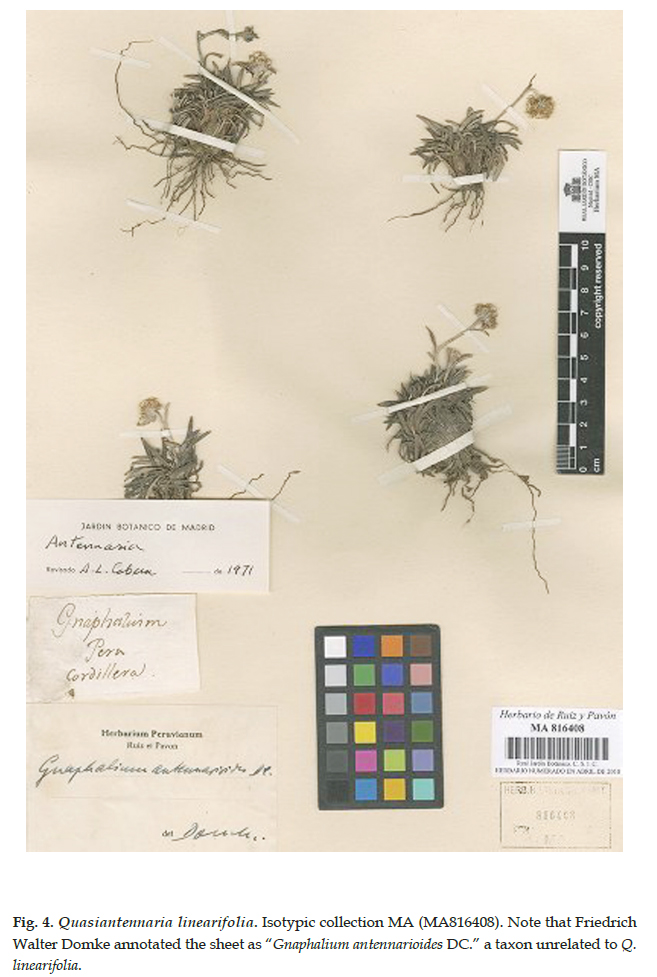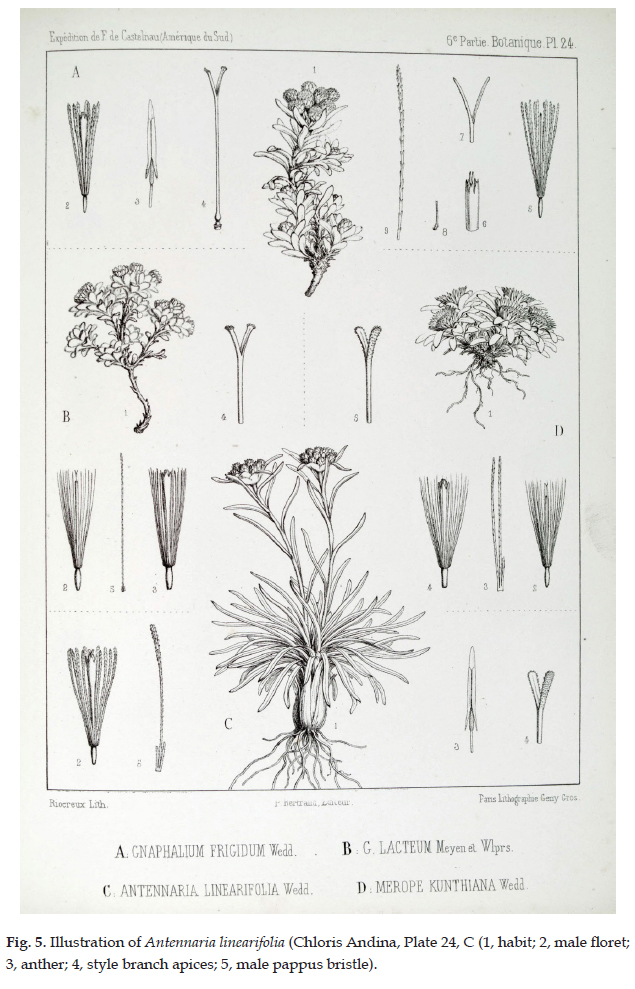 Leontopodium linearifolium (Wedd.) Benth. & Hook., Gen. Pl. 2: 303. 1873.
Leontopodium linearifolium (Wedd.) Britton, Bull. Torrey Bot. Club 19(5): 148. 1892.
Gnaphalium linearifolium (Wedd.) Franchet, Bull. Soc. Bot. France 39: 135. 1892.
Description: Dioecious or rarely polygamo-dioecious, perennial herbs, rhizomatous; stems unbranched, 5-15(-30) cm tall. Leaves basal, rosulate, sessile; blade oblanceolate-linear, 2-8 cm long, 1.5-3 mm wide, the lower surface densely tomentose, midrib prominent, the upper surface glabrescent, the margins entire. Capitulescences glomerulate, subtended by foliaceous bracts. Capitula 5-7 mm high, 3-5 mm wide, discoid, homogamous, rarely disciform and heterogamous; involucres campanulate; phyllaries 4-5-seriate, the outer ovate, 3-4 mm long, ca. 2.5 mm wide, apex obtuse, the inner obovate to oblong-lanceolate, 4-5 mm long, 1-2 mm wide, the apex prolonged into a white, petaloid lamina; masculine capitula with 40-50 functionally staminate florets, the corollas narrowly tubular, 3-3.5 mm long; feminine capitula with 50-60 pistillate florets, the corollas filiform, 2.5-3 mm long; heterogamous capitula disciform with 50-60 pistillate florets, the corollas filiform, 2.5-3 mm long, functionally staminate florets 6-8, the corollas narrowly tubular, 3.5-4 mm long. Achenes cylindrical, 0.5-0.7 mm long, pubescent with sessile, biseriate, capitate-glandular trichomes, ca. 40 µm long, ca. 55 µm wide (Fig. 6D, 7); pappus bristles ca. 3.5 mm long, apices clavellate (staminate) (Fig. 8, right) or acute (pistillate) (Fig. 8, left).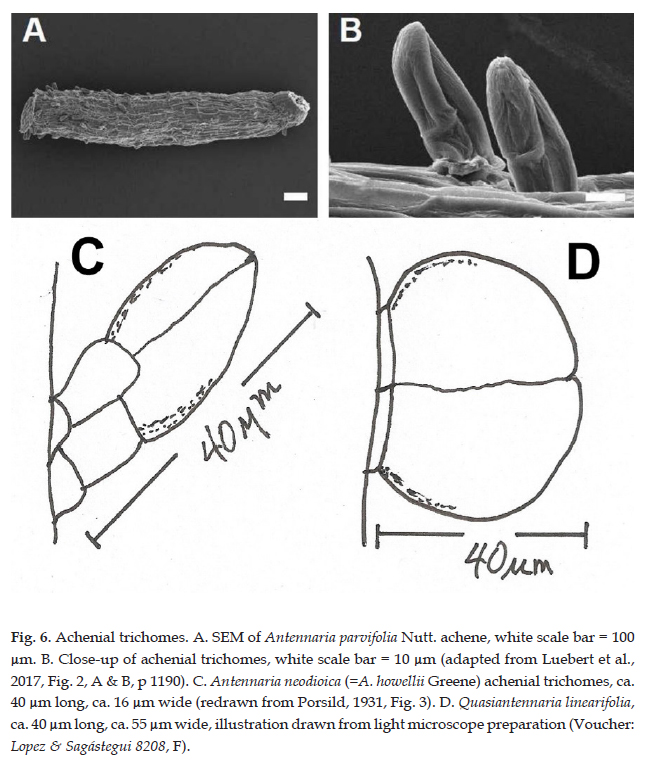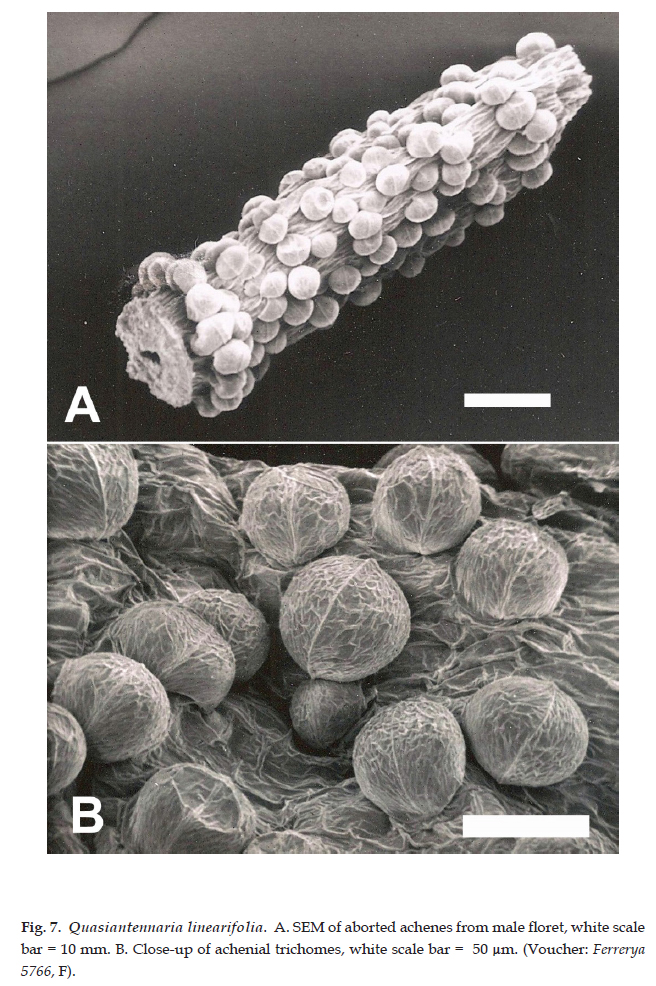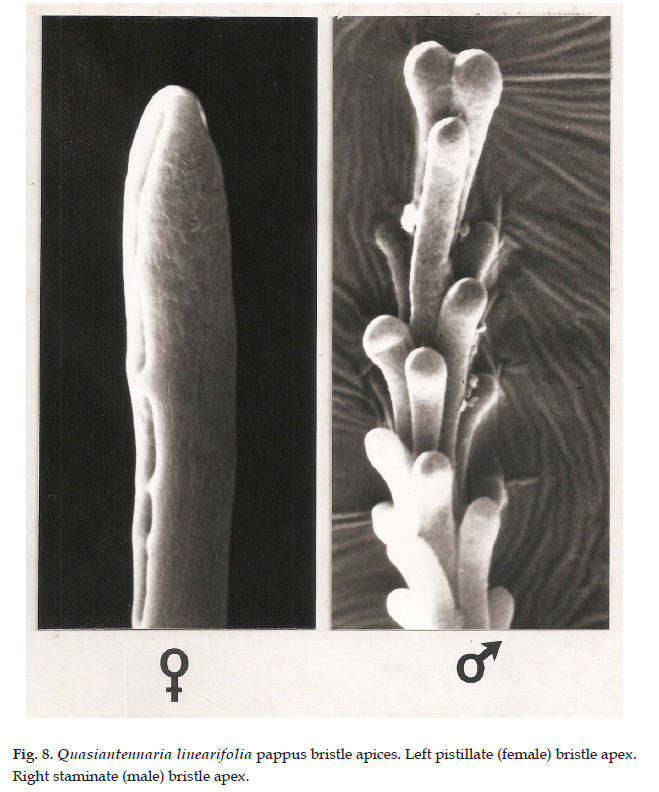 Etymology: From the Latin Quasi (about, as if, just as if, as though) and Antennaria. Originally described as if it were an Antennaria to which it bears a superficial resemblance particularly in its dioecious breeding system.
Distribution:
Quasiantennaria linearifolia is distributed throughout the central cordillera in Peru from Departments of Amazonas to Cusco, and northern Bolivia; (2700-) 3100-4500 (-5000) m. Collections determined as Q. linearifolia (as Antennaria) have been recorded from Ecuador, both at MO and US; however, in this study, we have not examined any authentic material from Ecuador. Ecuadorian collections have thus far proven to be either Pseudognaphalium or Mniodes; therefore, the distribution in Ecuador is represented as putative records on the distribution map (Fig. 10).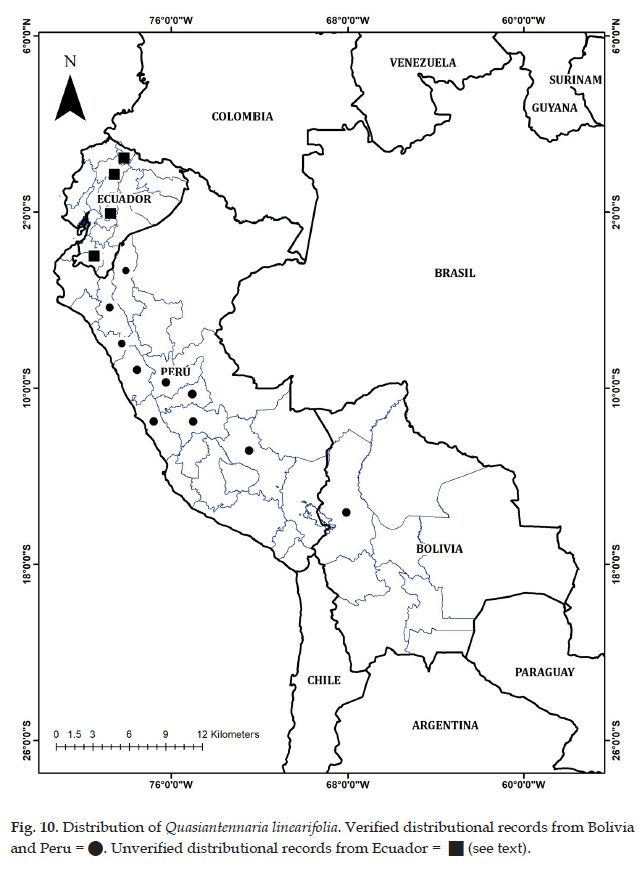 Discussion
Collections of this species are commonly misidentified as Antennaria or Gnaphalium (inc. Pseudognaphalium). Quasiantennaria shares a dioecious or polygamo-dioecious reproductive system and dimorphic pappus bristles, as in Antennaria, and possessed white, showy phyllary apices and basal leaves (Fig. 9). Microcharacters of the achenial trichomes are quite different, with Antennaria having clavate trichomes ca. 40 µm long, ca. 15 µm wide (Fig. 6B, C) and those in Quasiantennaria are globose, wider than long, ca. 40 µm long, ca. 55 µm wide (Fig. 6D, 7).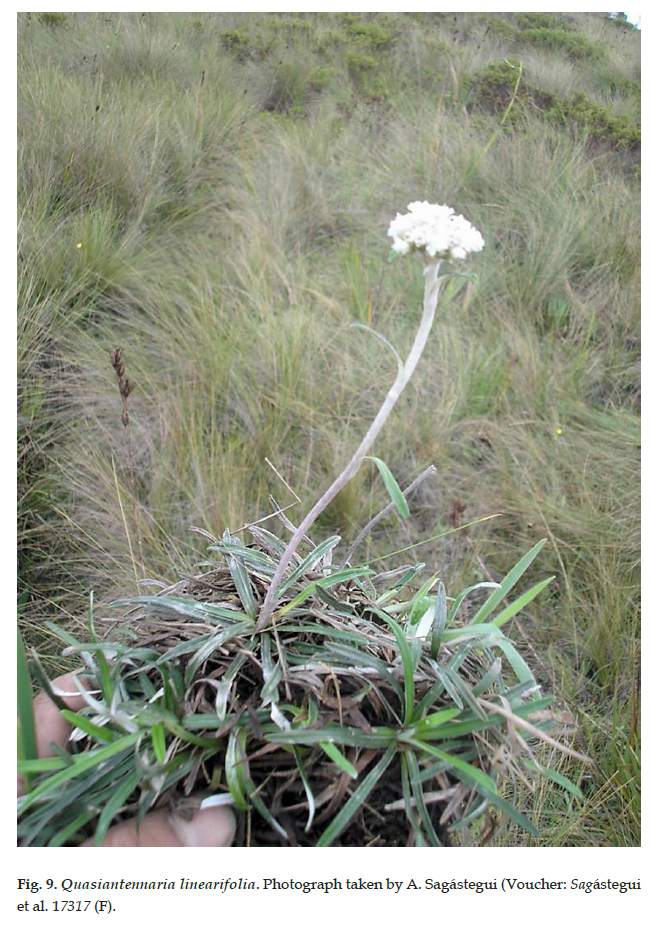 In Peru Q. linearifolia is known as champito, a name applied to many rosulate or cespitose species of Asteraceae.
Nomenclatorial notes: Quasiantennaria linearifolia has been confused with the heterogamous taxon currently treated as Pseudognaphalium antennarioides (DC.) Anderb. or other potential Pseudognaphalium species. They have been confused in both identification of herbarium material and promulgated in the literature. They both have gray, basal leaves and spicate capitulescences with clustered heads; however, the similarities between these two taxa are purely superficial. Pseudognaphalium antennarioides was proposed for a taxon with heterogamic capitula containing numerous pistillate florets and ca. 15 central, hermaphroditic florets (Humboldt & Bonpland s.n., P00322319). The latter taxon often has stolons or lateral stems and the erect flowering stems are often more leafy and without obvious internodes.
Dillon & Sagástegui (1991) placed Gnaphalium sedoides F. W. Klatt under the synonymy of Antennaria linearifolia; however, in retrospect, this taxon may be a member of Pseudognaphalium. The final placement of this collection will await additional study. Gnaphalium sedoides F. W. Klatt, Linnaea 42: 135. 1878-79. TYPE: Peru, J. Dombey 252 (holotype: P (P00704538), F neg. 37609; isotype: GH (GH00008364).
Specimens examined: "BOLIVIA. Prov." Larecaja. "Vicinius Sorata inter Pongo et Alinaya", 3700-3900 m, Apr-May 1859, G. Mandon 160 (BM, F-1012072, K, P (P02668530, P02668531, P02668532, P02668533, P03312094, P04279072), S (SR329)); Mapiri, 10,000 ft, May 1888, H.H. Rusby 1599 (BM, K, P02668528, US-1733467). PERU. Dept. Amazonas: Prov. Chachapoyas, Balsas-Leimebamba, 28 May 1977, J.D. Boeke 1824 (F-2252242, MO, US-2932828); Cerros Calla Calla, E side, 19 km above Leimebamba on road to Balsas, 3100 m, P.C. Hutchison & J.K. Wright 5560 (F-1651822, K, MO, NY, US-2533843); Puma-urcu, SE of Chachapoyas, 3100-3200 m, J. Wurdack 1135 (US-2373626); Cerro Campanario NNE of Diosan, 3200-3500 m, J. Wurdack 1603 (US-2373683). Dept. Ancash: Prov. Bolognesi, Chiquian, 3840-3860 m, R. Ferreyra 5766 (US-1998663, USM). Prov. Huaraz: Cerro San Cristóbal, NE of Huaraz, 8 Jul 1977, 3800 m, M. Evangelista s.n. (HUT, MO-3010688). Prov. Huaylas, Tocanca Punta, 4 May 1987, 4000 m, J. Mostacero L., S. Leiva G., F. Mejía C., F. Peláz P., D. Medina C., & W. Zelada E. 1965 (F-2010105, MO, US-3262675). Prov. Huari, Huascarán National Park, 1 km below Manto Mina, 9º'42'W, 77º15'W, 4300 m, 4 Jul 1985, D. Smith & M. Buddensiek 11010 (F-1961103, p.p., MO). Prov. Huaylas, Huascarán National Park, Quebrada Alpamayo, 8º50›S, 77º42›W, 4250-4020 m, D.N. Smith, R. Valencia, & L. Minaya 9846 (F-1961047, MO). Prov. Yungay, Huascarán National Park between guard post and head of María Josefa trail, 9º05›S, 77º40›W, 3500-3600 m, 28 Jan 1985, D.N. Smith, B. Stein, & C. Todzia 9409 (F-1963530, MO). Prov. Recuay, Conococha, 3 Nov 1984, 4100 m, A. Sagástegui A. & M.O. Dillon 12341 (F-1982346, MO). Sector Huari: 14.8 km NE of Tunel Cahuish along road between Catac and Chavin de Huantar, 3000-4000 m, D. Stevens 21965 (MO). Dept. Cajamarca: Prov. Cajabamba, Pumacama, ruta a Luchubamba, 3790 m, 4 Aug 2002, 7º33.7›S, 78º00›W, A. Sagástegui A., M. Zapata M., & J. Leal 17001 (F-2241955). Prov. Cajamarca, ca. 27 km NNW of Cajamarca on road to Hualgayoc, Pampa de Cerro Negro, 3600 m, M.O. Dillon & U. Molau 3023A (F-1925422); Quilish, al N. de Cajamarca, ruta a Hualgayoc, 3890 m., 16 Jan 1994, I. Sánchez V. & M. Cabanillas 6671 (F-2152116); Cumbe Mayo, 3450 m, 26 Jun 1987, I. Sánchez V. & A. Sagástegui A. 4430 (F-2140575). Tamiahoa, Cerro Negro, Gavilán, 3558 m, 26 May 2001, 7º15›W, 78º28›W, I. Sánchez V. 10614 (F-2230481); Tamiacocha, al Sur de Cerro Negro, a 5 km del Abra El Gavilán, 3560 m, 4 Jun 2001, 7º15›S, 78º27›W, I. Sánchez V. 10658 (F-2233227). Prov. Celendin, ca. 57 km NE of Cajamarca along road to Celendin, 3650 m., M.O. Dillon & B.L.Turner 1611 (F-1866911, MO). Prov. Contumaza: above Contumaza, 24 Apr 1966, 2700 m, A. Sagástegui A. & M. Fukushima 6098 (HUT, US-2582027); Pozo Kuan, 3600-3800 m, A. Sagástegui et al. 10086 (HUT), 12451 (HUT, MO). Prov. San Marcos, Ruta a Huagal, Cerro Quinua, a 10 km del desvío, 3120 m, 10 Apr 1991, I. Sánchez V., W. Flores, & S. Leiva 5514 (F-2138964). Prov. San Miguel: Taulis Alto (jalca), 3100 m, A. Sagástegui, E. Alvitez, & J. Mostacero 9543 (F-1893501, HUT). Dept. Cusco: Prov. Paucartambo, Acjanaco, 4 May 1990, 3600 m, A. Cano E. 3440 (F-2044360); Parque Nacional Manu, 19 Mar 1992, A. Cano E. 5125 (F-210409); Tres Cruces, 3330-3500 m, A. Gentry, M. Dillon, P. Berry, & J. Aronson 23439 (MO- 2726315); Corihuayrachina, Callanga, 3800 m, F. Woytkowski 565 (MO). Urubamba: Machu Picchu, on the Palcay side of the Salcantay-Palcay pass, 3500 m, B. Peyton & S.T. Peyton 711 (MO); Kinca Concha, Espejo Puerto, 4500 m, 9 Apr 1993, A. Tupayachi 2138 (F ex CUZ 028537). Dept. Huancayo: Huancayo: Huancayo, 4000 m, J. Soukup 1870 (US-1831634); Laguna Huacracocha, 5000 m, Feb 1948, J. Soukup 3612 (F-1415624). Dept. Huanuco: Mito, 6 mi S of Mito, 1-5 Aug 1922, ca. 11,000 ft, J.F. Macbride & W. Featherstone 1894 (F-518389, US-1186021). Dos de Mayo: Probresco, 12 mi E of Huallanca, ca. 10,500 ft, J.F. Macbride & W. Featherstone 2463 (F- 518892, K, US-1186095). Prov. Huanuco, Pillao, 2700 m, F. Woytkowski 34041 (F-1310502). Dept. Junin: Prov. Conception, 6 mi S of Mito, ca. 11,000 ft, J.F. Macbride & W. Featherstone 1819 (F, US). Dept. La Libertad: Prov. Huamachuco, ca. 20 km W of Huamachuco, ca. 3400 m, 7 Jan 1983, M.O. Dillon, U. Molau, & P. Matekaitis 2809 (F-1938701, USM); Cacanan, 23 Feb 1967, 3300-3400 m, Ricchio & La Rosa 3564 (US- 2582211). Prov. Otuzco: Cerro Sango, Motil- Shorey, 3300-3400 m, A. López M. 968 (US- 2141164), 7950 (HUT); Cerro Sango, Motil - Shore, 28 Mar 1991, 3350 m, A. Sagástegui A., R. Campos C., C. Gorritti C., P. Lezama A., & C. Tellez A. 14427 (F-2119592). Cerro Ragache - Salpo, 3200 m, 23 May 1994, A. Sagástegui A., M. Diestra, & S. Leiva G. 11588 (F-1982345, F-1947675, HUT, MO). Prov. Pataz, Travesía a Laguna Huascacocha, 3650 m, 10 May 2003, A. Sagástegui A., M. Zapata, E. Rodríguez & V. Medina 17364 (F-2320491, MEM). Prov. Otuzco, Trujillo - Huamachuco, 10-15 km before Shorey and Rangel, 7º59›S, 78º22›W, 3300 m, 13 Feb 1983, D.N. Smith & R. Vasquez M. 3293 (F-2002062). Prov. Pataz: Quebrada Rangia, Tayabamba-Huancaspata, 3600 m, A. López M. & A. Sagástegui A. 8208 (HUT, MO, NY). Dist. Buldibuyo, Alto El Diablo, 3600 m, 17 Mar 2001, 8º7.2'S, 77º24'W, A. Sagástegui A. & M. Zapata C. 16380 (F-2226169). Prov. Sánchez Carrion: ca. 10 km N of Laguna Saucacocha, ca. 20 km NE of Huamachuco, ca. 3370 m, M. Dillon, U. Molau, & P. Matekaitis 2845 (F-1918815, MO, TEX, USM); Comumbamba, subiendo al Nevado Huaylillas, 20 May 2001, 3824 m, 7º51.9'S, 78º01'W, A. Sagástegui A. & M. Zapata C. 16460 (F-2226184). Prov. Santiago de Chuco, al Oeste del Cementerio de Quirivilca, 3980 m, 22 May 2001, S. Leiva G. & P. Leiva 2558 (F-2230006). Dept. Lima: Prov. Chancay, Auquimarca, Mar 1947, 4000 m, P. Abdón 3271 (F-1416105). Dept. Pasco: Prov. Pasco, Cerro de Pasco, 4135 m, H. Ellenberg 4123 (US-2889328). Quichas, Bosque de Polylepis de Q'asacancha, 10º33.09'S, 76º46.09'W, 4200 m, W. Mendoza & G. Servat 150 (CUZ-31625). No exact locality: Peru, 1909-1914, A. Weberbauer 7004 (F-628017).
Acknowledgements
We thank curators and collection management staff for the loan of materials and hosting herbarium visits to consult collections, including B, BM, COL, CONC, CUZ, G, GH, HSP, HUT, K, M, MEM, MO, NY, P, SGO, US, and USM. We thank Daniel Le for providing the digital images of Field Museum collections. Segundo Leiva Gonzáles is acknowledged for his fine illustration (Fig.1) originally published in the Flora of Peru (1991) treatment under Antennaria. Victor Quipuscoa Silvestre is thanked for critically reading the manuscript and correcting the Resumen. We thank Dr. Federico Luebert for discussions of molecular sequence data and their utility in circumscribing taxa. MOD gives a special thanks to Dr. Renee Prakash, for hosting a visit to Natural History Museum (BM) and Dr. Nicolas Hind, for hosting a visit to Kew Gardens (K), both in November 2018. RJB wishes to thank Ramhari Thapa (MEM) for his hard work on our, as yet unpublished, next generation phylogeny of Antennaria, which strengths the conclusions we have here.
Contribution of the authors
R.J.B: Redaction of the text, evaluation, methodology, taxonomic determination of the species, review and approval of the final text. M.O.D.: Fieldwork, redaction of the text, taxonomic determination of the species.
Conflicts of interests
The authors declare not to have conflicts of interests.
Literature cited
Anderberg, A. A. 1991. Taxonomy and phylogeny of the tribe Gnaphalieae (Asteraceae). Opera Bot. 104: 1-195. [ Links ]
Bayer, R. J. 1990. Investigations into the evolutionary history of the Antennaria rosea (Asteraceae: Inuleae) polyploid complex. Pl. Syst. Evol. 169: 97-110. [ Links ]
Bayer, R. J. 1991. Allozymic and morphological variation in Antennaria (Asteraceae: Inuleae) from the Low Arctic of nor thwestern Nor th America. Syst. Bot. 16: 492–506. http://dx.doi.org/10.2307/2419339 [ Links ]
Bayer, R. J.; D. E. Soltis, & P. S. Soltis. 1996. Phylogenetic inferences in Antennaria (Asteraceae: Inuleae: Gnaphaliinae) based on sequences from the nuclear ribosomal DNA internal transcribed spacers (ITS). Amer. J. Bot. 83: 516-527. [ Links ]
Cabrera, A. L. 1957. Una nueva especie del genero Antennaria (Compositae). Notas Mus. La Plata, Bot., 19: 73-79. [ Links ]
Chen, Y. L. 1985. Sinoleontopodium, a new genus of Compositae from China. Acta Phytotax. Sin. 23 (6):457-459. [ Links ]
Dillon, M. O. 2005. Familia Asteraceae. In: Flora Genérica de los Páramos: Guía Ilustrada de las Plantas Vasculares. P. Sklenár, J.L. Luteyn, C. Ulloa-U, P.M. Jørgensen, & M.O. Dillon (Eds), Memoirs New York Botanical Garden, 92: 96–180. [ Links ]a
Dillon, M. O. & A. Sagástegui. 1991. Family Asteraceae: Par t V. Tribe Inuleae. In: J. F. Macbride & Collaborators, Flora of Peru, Fieldiana: Botany, N.S. 26, 1-70. [ Links ]
Luebert, F.; A. Moreira-Muñoz; K. Wilke & M. O. Dillon. 2018. Phylogeny and evolution of achenial trichomes in the Lucilia-group (Gnaphalieae, Asteraceae) and their systematic significance. Taxon 66(5): 1184-1199. [ Links ]
Nie, Z. L.; V. A. Funk; Y. Meng; T. Deng; H. Sun & J. Wen. 2015. Recent assembly of the global herbaceous flora: evidence from the paper daisies (Asteraceae: Gnaphalieae). New Phytologist 209 (4): 1795-1806.
Porsild, M. P. 1931. On the "papillose" achenes in the genus Antennaria. Rhodora 34(395): 213-222. [ Links ]
Thapa, R.; R. J. Bayer & J. R. Mandel. Ined. Reconstruction of phylogenetic relationships in Antennaria (Asteraceae: Gnaphalieae) using data from hundreds of loci. Systematic Botany (ined. [ Links ]).
Ward, J.; R. Bayer; I. Breitwieser; R. Smissen; M. Galbany-Casals & M. Unwin. 2009. Gnaphalieae.
Pp. 537–585 In: V.A. Funk, A. Susanna, T.F. Stuessy, & R.J. Bayer (Eds.), Systematics, evolution, and biogeography of Compositae. Vienna: International Association for Plant Taxonomy, University of Vienna.
Recibido: 2-I-2019;
Aceptado: 20-II-2019;
Publicado online: 10-IV-2019;
Publicado impreso: 30-IV-2019